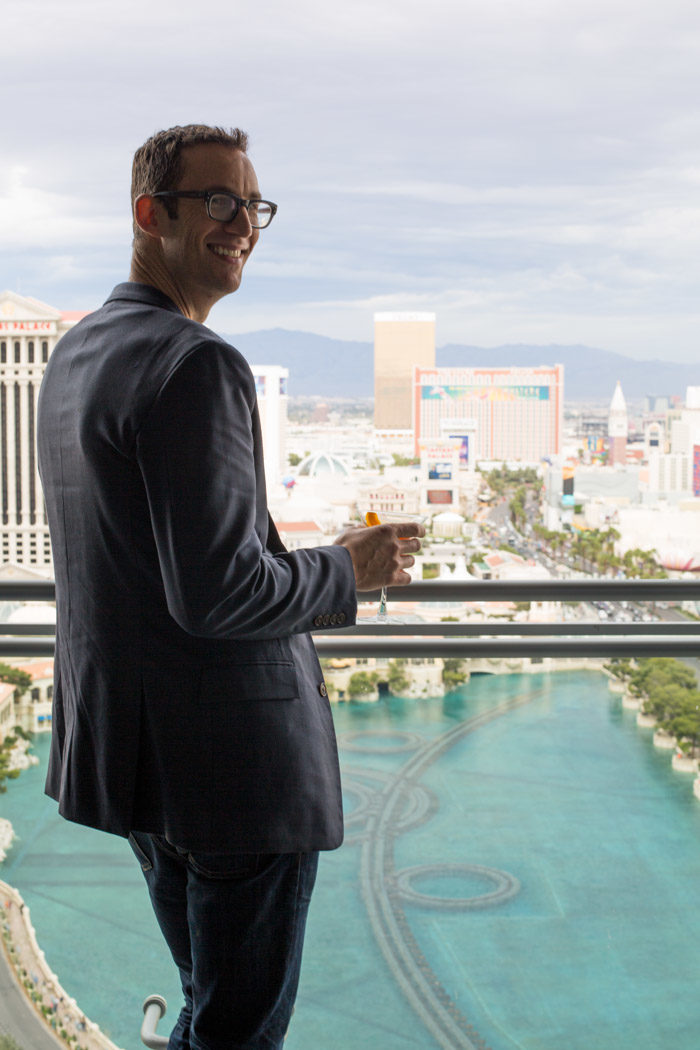 For two people who don't gamble, it's funny how much Aron and I have come to love a quick getaway to Las Vegas. It's just a 90-minute flight from Sacramento, but it's a bit like a trip back in time—we get to visit lots of our restaurants from years spent in Los Angeles and New York, and we get to revisit that pre-kid life a bit, too (all the while knowing that our kids are plenty happy to get extra time with grandparents). We tend to keep to a fairly similar itinerary on most visits, but we discovered a few new things on this trip…
After a flight over the desert, we touched down just before noon, and took a taxi to The Cosmopolitan. We've stayed at the Aria and Vdara on the last couple of trips and were finding that we'd often end up at The Cosmopolitan for food, so we thought it was time to try staying there. It definitely caters to a younger crowd—for example, you text with the concierge if you need help and even the pay per view has been replaced by apps like Netflix on the TVs—and the scene is very cool.
It's also one of the few hotels on the strip to offer balcony rooms. Ours faced out directly onto the Bellagio fountains and looked down the strip—by far the best view I've ever had in Vegas, especially from the bathtub! You can hear the water cannons if you try, but from the 31st floor we could barely make out the music. I never thought it was too loud, as one might fear.
Oh, and I loved all the funky wallpaper.
I should mention that, on our ride back to the airport the taxi driver mentioned that the rates for The Cosmo (and other hotels, I'm guessing) go way up in the summer. The off-season is November through March, so you can get some really good deals.
Our first stop was lunch at Shake Shack, down at New York, New York. Priorities.
It never ceases to amaze me how long it takes to walk between hotels on the strip. Something will seem so close but your feet will remind you otherwise. We took full advantage of any burned calories by requesting extra cheese sauce.
After lunch we decided to walk all the way down to The Venetian (which, again, looked so much closer). The details of these faux-Italian facades is pretty awesome. We made a quick tour of its Canal shops before crossing the strip to walk past The Mirage (I remember being a kid when it opened, with its white tigers and volcanic eruptions!), through Caesar's Palace (always a favorite), and The Bellagio, before taking some time to relax back in our room.
Before dinner, we had cocktails in The Chandelier bar, where I again tried this off-menu drink (ask the server) that comes with an edible flower that heightens your taste-buds. It's pretty crazy!
Then we had 9pm dinner reservations at Rose. Rabbit. Lie., which is a bit of a supper-club in the hotel. We got seats at the bar before the table was ready and then decided not to leave, we were having such a good time right there. This was probably my favorite new discovery of the weekend and I'd highly recommend it.
The live music was fantastic with the band alone—really good jazz—and then these performers would come out every now and then to do a song or to dance, and they were awesome, too! There was a tap dancer who'd come up from Los Angeles just for the night (his roommate ended up beside us at the bar) and he was crazy good. Apparently the show is never exactly the same.
The menu was "reinvented American classics" like Oysters Rockefeller. We shared some (very rich) small plates: caviar flatbreads, seared foie gras, herbed brioche rolls, and the most amazing steak tartare that you scoop up with beef chicharrones. We also shared a "Smoked American Classic" where a Negroni is infused with actual wood smoke using a smoking gun. I said it was like smoking a cigar and having a stiff drink. Aron said "campfire in Italy." Whatever the case, I recall feeling so happy with the combination of that, steak tartare, and live jazz.
In fact, we were having such a good time, we shared another—this time a Smoked Vieux Carre. That was probably overkill… but we danced some of it off in the Marquee club after.
It's a good club—we went with friends the last time we were in town—so it's a pretty nice perk that you get in for free cover if you're staying at the hotel. I think it would have been something like $70 for the two of us, otherwise.
With ringing ears, we grabbed a Compost Cookie (an old favorite from the East Village that, sadly, is hard to get fresh as they're all prepackaged now—fo' shame, David Chang) and called it a night.
The next morning Aron went downstairs to get takeout from Eggslut—the saucy egg eatery we first enjoyed in the Los Angeles Grand Central Market just opened a location in the hotel.
The rest of the day was for relaxing. We had spa reservations and planned for some pool time (though the latter part had to be nixed when it started to rain). The spa there was beautiful, but the sticker shock for treatments was severe. And while the facilities were wonderful to use beyond that (steams and saunas, etc.), they didn't have any co-ed spaces, so there was a limit to how long we wanted to stay.
Has anyone found a spa on the strip to be really nice for its co-ed facilities?
We took a break at one point to go down and have lunch at China Poblano. José Andrés has a few restaurants in the hotel and this one is a casual eatery that mixes flavors of Mexico and China—there's literally someone making tacos on one side and dumplings on the other. It's been our favorite stop on our last few trips. There are a couple of dishes in particular that are hard to pass up: the quail egg shiu mai and the tuna ceviche. SO good. This would be such a fun place to come with a large group so that you might sample more of the menu.
A few hours before our dinner reservations, we went downstairs for a boozy milkshake at Holstein's (apparently a Portland transplant with a menu of burgers and shakes). Check out the shakes menu. Holy cow. (Ba-dum-bum.)
We also browsed some of the shops and ended up getting pulled into one of those chairs where someone shows you how much more amazing your skin would look with a diamond peel and some topical collagen. I declined at first, offering up Aron. It was really compelling, so I got a turn in the chair, too.
One of the coolest things is that there's a Rent the Runway shop there: you can rent a designer dress for a night (or some accessories). I always imagine people are going to impromptu weddings, but that's probably not the case. Would be a fun thing to do upon arriving in town, though.
For dinner, we checked out the new Momofuku: David Chang just opened his Vegas location. Pork buns, ramens, the usual hits… but the new standouts for us were soft boiled eggs topped with smoked salmon roe and crispy rice, as well as the fried brussels sprouts (the best I've ever had). One thing they've added for the new west coast location are more large format dinners for groups. You can pre-order.
We opted to pick up a crack pie from Milk Bar for dessert to-go and make it an earlier night (extra sleep is of course part of the point of a kid-free vacation). I'm sorry to say that we were again disappointed by Milk Bar. The pie had clearly been frozen as evidenced by a tell-tale freezer-flavor.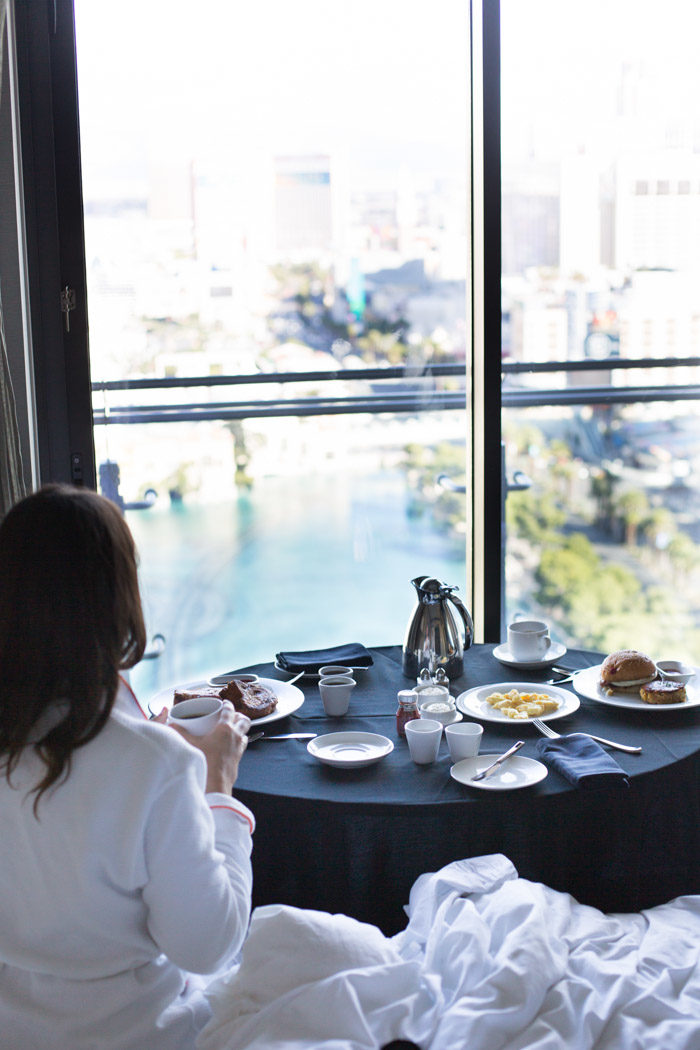 With all the rich food we'd already had, we decided to pass on the hotel's popular Wicked Spoon buffet and enjoy that view a bit longer before our flight, ordering a few items from room service instead. We pulled the table right up to the windows and took it all in.
Would love to be right back there, right now.
Have you been to Las Vegas recently? What should we be sure not to miss next time? 
P.S. More posts on Las Vegas: a trip to the Neon Museum, a stay at the Aria (with Cirque du Soleil), and a stay with a helicopter ride over the city and a trip to the Mob Museum.
Related posts: