In "5 Things," we ask some of our favorite insiders in cities all over the world to share travel tips on where to eat, shop, stay, and play in their neighborhoods (plus, what to pack to make the adventure complete). We are happy to have Mara Duckens join us today in an exploration of Milwaukee! Everyone's been buzzing about the city lately, as it was just announced as the location for the 2020 Democratic National Convention! But away from the buzz is a city that's great for families—full of cultural experiences and natural beauty.
5 Things: Milwaukee, WI
Mara Duckens
Milwaukee is the city that has my heart. I grew up in this famous brewery-town and, after going away for college and traveling to different parts of the globe, returned ready to give back to the community that raised me. Today, I run a nonprofit organization for children, enjoy an active life with my husband and daughter, and am proud to call Milwaukee home. We choose to live here because of the friendly people, the focus on family, the rich arts community, and the natural beauty that surrounds us.
Our neighborhood, the East Side, is nestled between the Milwaukee River and the coastline of Lake Michigan. It is a historic area, and we live in a 120-year-old Victorian home. We have beautiful parks, walking trails, and beaches, and are outside every opportunity we get. Nature is incredibly accessible, and that's one of the things that I love most about this place. I can step out of my front door and, within a minute or two, I am standing at the water's edge or before the forest.
My neighborhood is also home to the University of Wisconsin-Milwaukee, and when you have a large concentration of college students, I think it adds to the vibrancy of a place. Young people bring fresh ideas, fashions, flavors, and flare. This is evident everywhere I turn.
Hip, gritty, artsy, outdoorsy, delicious…Milwaukee.
EAT
Milwaukee is known for its beer, cheese curds, and sausages. Unfortunately, I can't enjoy any of those. I know, the joke is on me! I suffer from a number of food allergies–some are mild and some are life-threatening—and it requires that I eat a plant-based, gluten- and dairy-free diet. Thankfully, Milwaukee has an exploding food scene with a great variety of vegan and vegetarian-friendly restaurants.
When friends visit, one of our first stops is Centro Cafe. Located in Milwaukee's eclectic Riverwest neighborhood, on the west bank of the Milwaukee River, Centro focuses on rustic Italian food. The space is cozy and tables are placed right next to one another, which creates a communal vibe that I love. Best of all, there are plenty of tasty gluten-free and vegan options. When we finish dinner at Centro, we head around the corner to Foundation, one of the best tiki bars in the world! That's right, I said it. The world. Once the night gets rolling, it can be difficult to find a seat in this Polynesian-inspired hangout, but it is just as fun to stand, sip a "Curse of Ku," and people-watch.
Strange Town is another great dinner spot within walking distance of our home. The menu is entirely plant-based and inspired by global flavors. Because the dishes are filling and flavorful, even those who are accustomed to meaty fare will leave happy. In addition to great food, the cocktail/wine/vermouth list is extensive. The interior is simple and romantic, and reminds me of a bistro you'd find on a quiet street in Paris.
Centro Cafe 808 E. Center Street, (414)455-3751
Foundation 2718 N. Bremen Street, (414)374-2587
Strange Town 2101 N. Prospect Avenue, (414)885-0404
SHOP
One of my favorite neighborhood shops is Little Monsters, a locally-owned children's boutique filled with adorable clothes and toys. Everything inside is eye-candy. Bring your little one and watch their eyes widen with delight!
The Milwaukee Public Market is another great shopping destination, where you will find specialty food and wine shops, restaurants, and a seafood counter all under one roof. Whether you're craving sushi, tacos, hummus, soup, or a smoothie, you will find it here.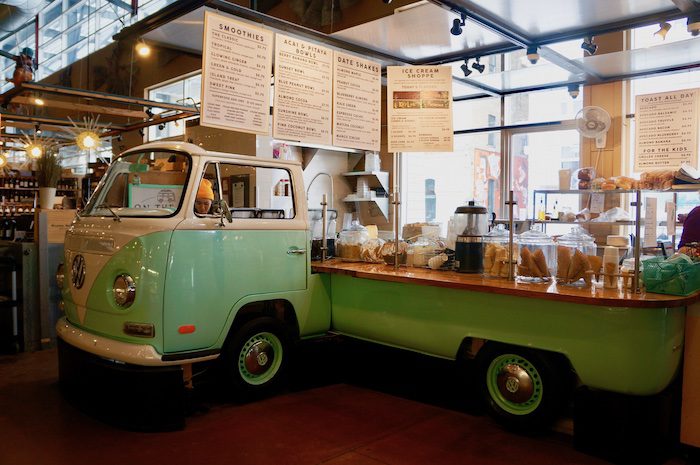 Beans & Barley is the quintessential East Side stop. It is both a restaurant and a specialty grocer. In the family-friendly cafe, you can enjoy delicious sandwiches, salads, and soups. The grocery store stocks staple items, but it is the handmade crafts and unusual toys and collectibles that make it a destination. My out-of-town friends never leave empty handed!
Little Monsters, 2445 N. Farwell Avenue, (414)964-2323
Milwaukee Public Market, 400 N. Water Street, (414)336-1111
Beans & Barley 1901 E. North Avenue, (414)278-7878
PLAY
My favorite place to play and explore is the Rotary Centennial Arboretum along the Milwaukee River. The magnificent walking trails envelop you in nature, even though you are in the heart of the city. Throughout this "tree museum," kids can find tons of places to climb, jump, and hide. It is pure magic!
If you are lucky enough to visit Milwaukee when it is warm outside and the flowers are blooming (usually mid-June to September), then visit Bradford Beach. Wade in the cool Lake Michigan waters, grab a beer, and watch a beach volleyball match. This is summer living at its best.
I have a Master's Degree in art history, so I love a great art museum, and we have one! Visitors to the Milwaukee Art Museum are greeted by a pair of Santiago Calatrava-designed "wings." Once inside, head to the Bradley Collection which has masterpieces by Kandinsky, Braque, and Picasso, along with a phenomenal collection of paintings by Wisconsin native, Georgia O'Keeffe. I promise you will leave inspired! After the museum, head north to Black Cat Alley, an outdoor gallery that features murals by artists from around the world. Black Cat Alley is also home to a tucked-away speakeasy where you can stop for a craft cocktail.
Finally, for moms and dads traveling with youngsters who have special needs, I would love you to stop at the Family Activity Center at St. Francis Children's Center. Come play, read books, make art, and meet other families in a safe and nurturing environment. St. Francis Children's Center is a nonprofit, non-sectarian organization that specializes in education, therapy and support services for children with special needs. The hours vary, so check the website for days and times.
The Rotary Centennial Arboretum, 1449 E. Park Place
Bradford Beach, 2400 N. Lincoln Memorial Drive
Milwaukee Art Museum, 700 N. Art Museum Drive, (414)224-3200
Black Cat Alley, Between Kenilworth Place and Ivanhoe Place
Family Activity Center at St. Francis Children's Center, 6700 N. Port Washington Road
STAY
I recommend staying at the Journeyman Hotel because of location, location, location! This handsome boutique hotel is in Milwaukee's Third Ward (about a block away from the Public Market), a historic neighborhood known for its restored warehouses, art galleries, theater groups, and shopping. The Journeyman has a rooftop bar that is open spring, summer and fall, and a fantastic restaurant on the ground-level called Tre Rivali, run by chef Heather Terhune of Top Chef fame.
The Journeyman Hotel, 310 E. Chicago Street, (414)291-3970,
PACK
Milwaukee is casual by day, and snazzy in the evening—and we are a city that loves a creative edge, so let your personal style shine! Pack a great pair of shoes and your favorite statement piece…and don't shy away from color. (Pink suede pumps by Anne Klein; Silk Cashmere Crew in Yellow by Banana Republic)
And guys, a lot of Milwaukee men love their beards. In fact, my photographer friend, Jessica Kaminski of Refinery Photo Studio, created The Milwaukee Beard Book to highlight some of these looks and inspire you. So leave the razor at home.
A huge thank you to Mara for this bright, personal guide to such colorful city! Have you been to Milwaukee? Any tips to add? 
Mara Duckens is the Executive Director of St. Francis Children's Center in Milwaukee. She is also a parenting coach who helps parents create meaningful family traditions and bring creativity into their homes. You can follow her on Instagram @entertainingfamily.
P.S. Looking ahead to summer and considering what kids' ages are the best for traveling? And our full list of 5 Things Travel Guides!
Thank you to Molly Coyne for her help with this series! All images are by Mara Duckens, with the exception of the photo of Mara in "Pack," which was taken by Jessica Kaminski, and the interior photo of Centro Cafe. 
Related posts: