Last year, I wrote about our plans to update our front yard landscaping—and shared lots of my favorite inspiration photos. Now that that we've been through all of the seasons with it, it seems time for an update.
If you recall, our home is a 1964-Streng, a mid-century modern home that resembles the Eichlers common to the Bay Area, but which is better suited to the Sacramento valley's climate. I wanted to emphasize the lines of the house with architectural plants like yuccas, agaves, and succulents, and draw the eye away from the carport. We also knew that we wanted the plants to be very low-water.
Our other goals were to have a walkway through the garden, rather than stemming off the driveway, and a bench or a place to sit when we're out with the kids.
You can see some of the design suggestions our friend, Lora Martens, gave us to consider in the original post—she introduced the idea of adding a wall into the design. From there, we started making adjustments as we went—like adding a bench, choosing pavers and stones, and bringing home so many plants!
Here's a look at the process, starting with the "before"…
Most of the vegetation here is California Poppies—which erupted in a gorgeous carpet of flowers in the spring, but looked a bit less lovely the rest of the year. They'd also completely taken over a rock-riverbed feature and we were a little surprised to see it again—we'd underestimated just how many were under there! Our neighbors and friends showed up with wheelbarrows to take lots of the stones away. We just held onto the larger ones by the scrub-tree.
We'd also already removed two large Birch trees that once obscured much of the house. They were dying and needed to come out anyway, but it gave us a taste of how much we preferred seeing the shape of the house. We also didn't want to shade the roof, as we use solar energy.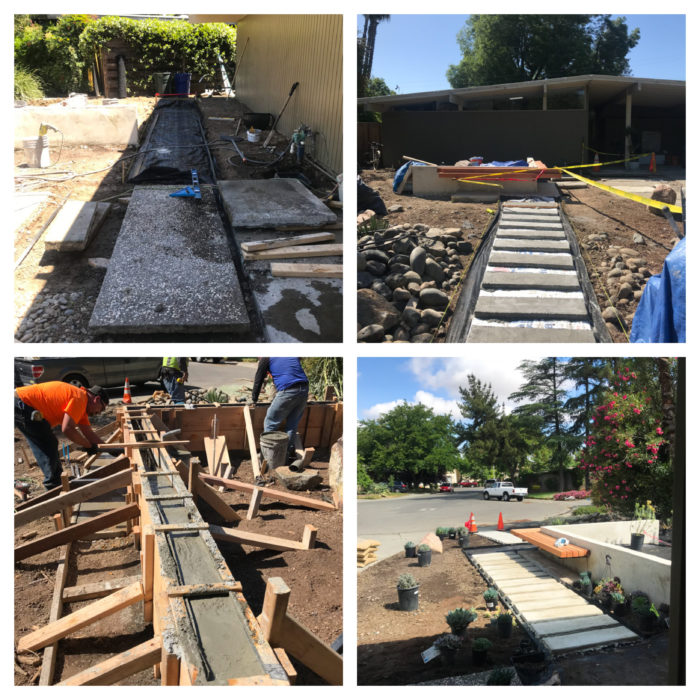 We really loved the giant aggregate-slabs that had been poured in the '60s, so we kept those where possible, and then did our best to match them with loose stones to create a pathway. In other places, they poured concrete to create the look of pavers—a big cost savings.
The permanence of adding concrete to the design gave me some major gitters—but it was exciting to see it all come together.
We were redrawing the bench design up until the very last minute and picking out plants every chance we got.
We brought home a ton, but it still looked pretty sparse for a while.
Hector, our contractor, and his team laid our cloth over the soil to keep weeds at bay, but we were worried about it making it more difficult for us to shift plantings or for the plants themselves to spread—we just weren't sure how we'd find it—so we asked them to only use the cloth on half the yard.
In fact, we do find it sort of a pain to have to cut into the cloth every time we add or move something and wouldn't use it again. I'd be curious what others think.
The first things to fill in were the fountain grasses, just barely visible in the right of this photo. They looked so pretty in the afternoon sun, but actually got too big for us. We've taken them out and replaced them with some dwarf versions since, but I don't have any photos of the new ones.
Funny side note: Aron and I placed just about everything with head-lamps on in the dark, because after the kids were in bed was the only time we could seem to get to really just focus on the design.
We chose lots of different textures and shade of green. Here, Euphorbia flowers shade a bunch of hen-and-chicks. Believe it or not, lots of these succulents still fry in the Davis summer sun, so it has been lots of trial and error.
It was an exercise in patience for a few months, but then all of the sudden it seemed to fill in and come to life!
And our lavender bloomed during the summer—we planted Spanish, French, and English lavender and did taste tests before making ice cream and sachets. Only problem is we're not sure which is which anymore.
I'm really happy with how it has turned out! And you'll notice that we fixed the driveway, too!
As I mentioned, we lost a few plants to those extreme summer days (and we have to be mindful of frost in the winter), so we're still playing with our picks. And we would like to plant a tree behind that wall/bench. The original plan was a yucca or something like that (I've been sort of testing that Dracaena outside), but we've also been considering citrus or olive. I just don't want the foliage to obscure the house again.
Let me know if you have any suggestions for the selection—of the tree or for more plants to try for this zone.
P.S. Our backyard and more home tour posts.
Related posts: