While we've paid plenty of attention to in our backyard's design, with new plantings and furnishings, we've done very little with our front yard. It's in need of a makeover, and we've decided that this is the year we will tackle it.
Our home is a 1964-Streng, a mid-century modern home that resembles the Eichlers common to the Bay Area, but which is better suited to the Sacramento valley's climate. I love its long lines and want to make sure we keep things clean so that those lines can be visible. It also has a carport, a feature that I don't think needs emphasis, and so I want to do things that keep the eye on the left side of the house when you approach.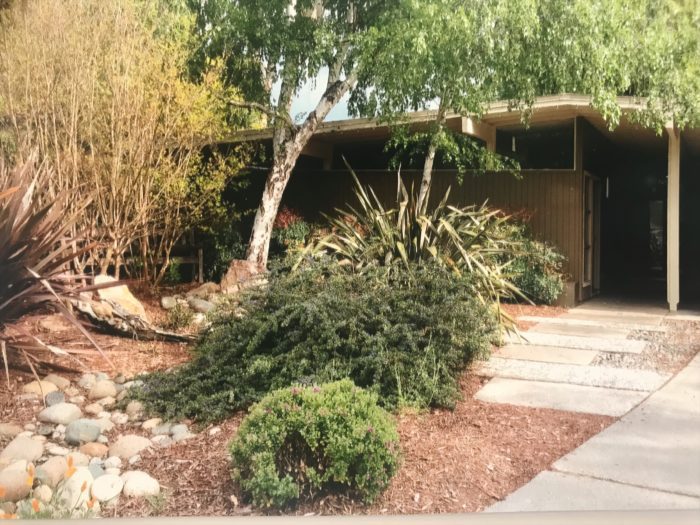 We've removed two large Birch trees that once dominated that side of the house. They were dying and needed to come out anyway, but I prefer it without them. Shade isn't much of an issue in the front yard—and we don't want to shade the roof, as we use solar energy. And now I'm looking forward to taking out that more scrubby-brush tree.
In terms of wish-lists, we'd like the plants to be very low-water, and like the look of architectural plants like Yuccas, Agaves, and succulents a lot. I'm interested in having a walkway that meanders through the garden, rather than stemming off the driveway. And I'd like a bench or a place to sit when I'm out with the kids.
We have a friend, Lora Martens, who is a landscape architect, who we've asked for some help. I thought I'd share some of the plans we're considering, along with the inspiration photos I've been gathering…
At first we thought that the only hardscaping change we'd be making would be to add a path, in hopes of drawing the eye away from the driveway and carport and over to the garden. I still think this alone would be a big improvement. Perhaps something a bit more meandering, so that the degree of hardscape is mitigated in appearance.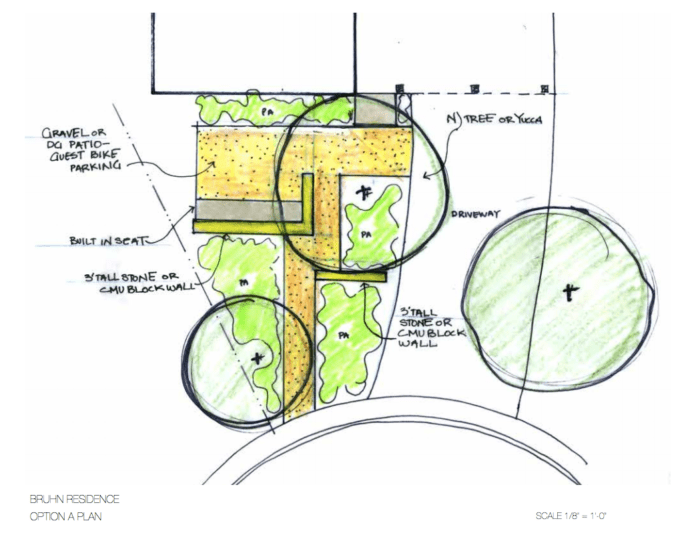 But Lora also suggested that we might consider adding in walls for incorporating the seating. This first idea shows a higher, three foot wall, in two places.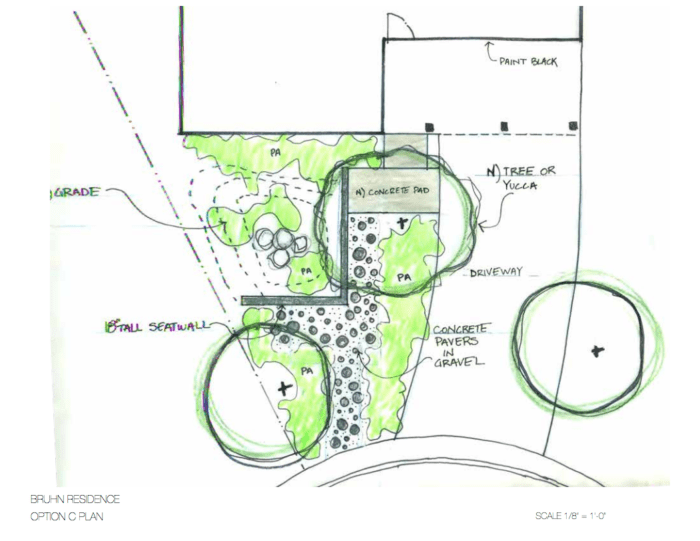 Other options show the wall at different heights, and with a more meandering path.
At first I wasn't sure about breaking up the garden, worried it would make the space feel smaller, but I've been looking at examples and discovered that I really like the shorter walls—around 18″ high—that also have a function. So we're asking for a sketch with a planter box with an attached bench.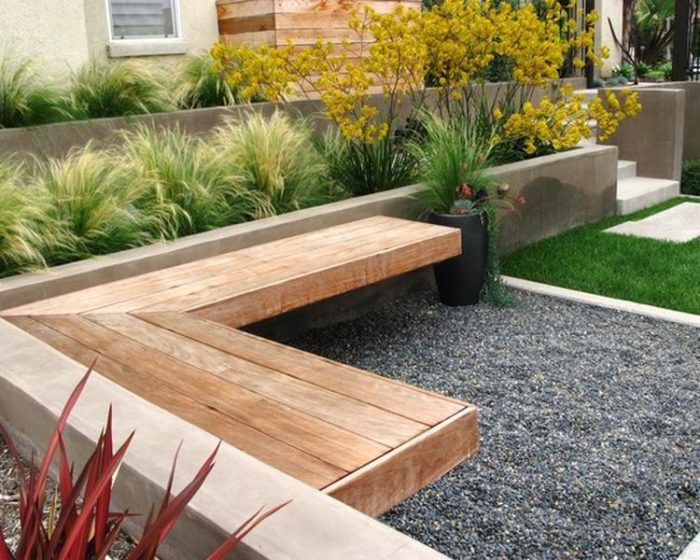 We are thinking it would have board-form concrete, as in this first example, with a bench facing the street. Most likely, we'll go with some combination of the previous sketches, where the wall forms and L toward the house—most like the Option C plan. (Second photo source.)
I'd like to keep the trees and anything with a lot of height toward the back left, so as not to block the house, but so as to retain some of the privacy when it comes to the path that leads around the house.
I've added most of my inspiration images to a board called Outdoor Spaces on Pinterest, but these are some of the most relevant of the bunch…
I've long loved the front of the Isabel Marant shop in Los Angeles. I'd like the plant heights to scale more in our yard (from low to high), but these are the kinds of plants I think of when I picture the space filled in. I took a picture of this garden back in 2013 and shared it here, so you can see that it's been on my mind for a while! (Photos via Elysian Landscapes and Laure Joliet)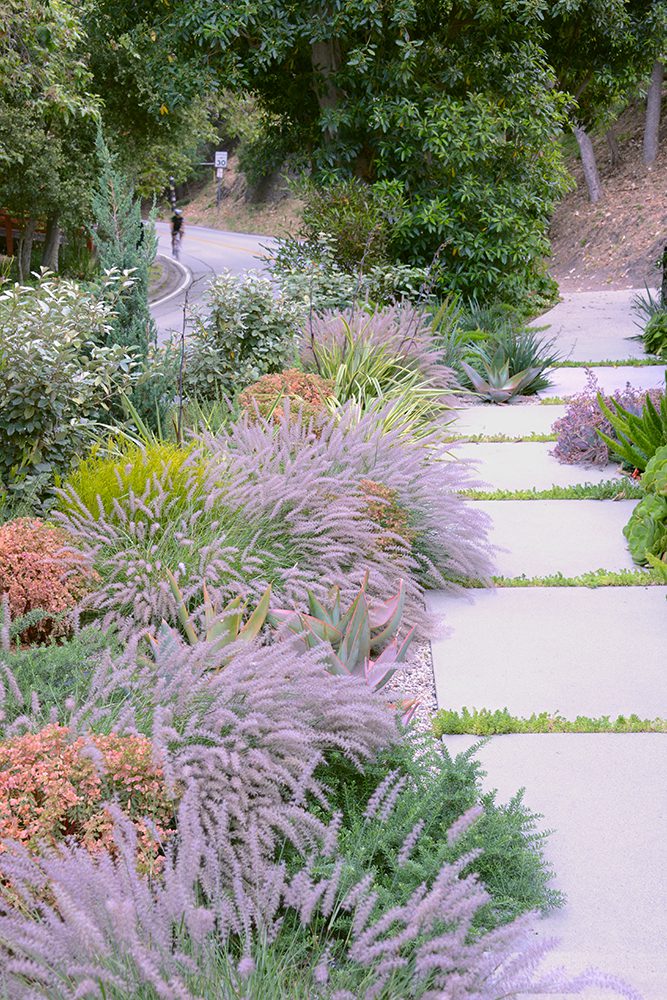 I really like the way the plants encroach on the pavers in these examples. (Photos via InteriorZine, Elysian Landscapes (x2), and Erik Otsea for Judy Kameon)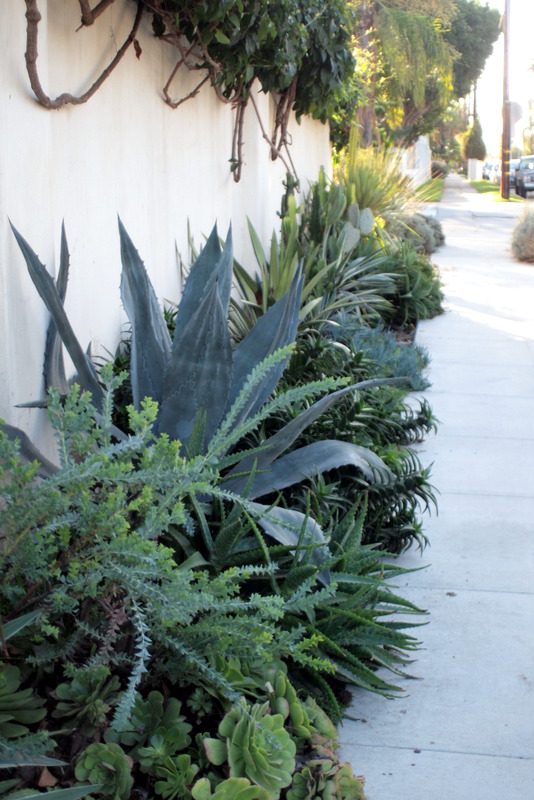 We've been waffling about planting something with more traditional canopy, like an orange tree, but these Lorax-like Yuccas are what we're thinking for "trees." (Photo sources: Lushome, Elysian Landscapes, and A Growing Obsession)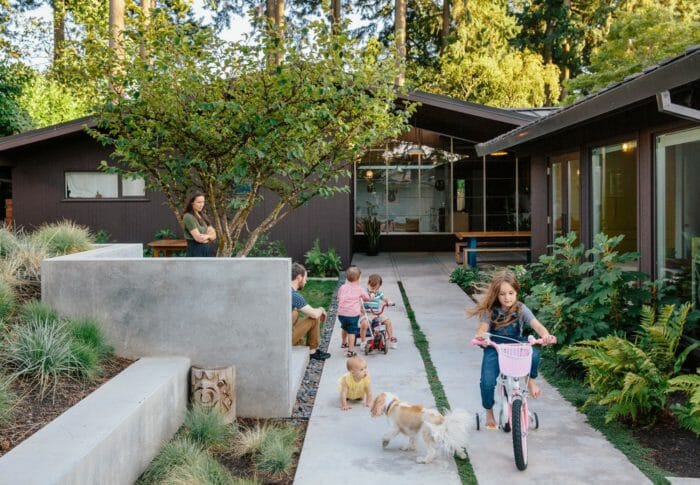 This home from Dwell features some concrete walls of varying heights—we'd likely only have one—but I like seeing the mixed use of space in front of a similar-era home.
This neighbor's home in Davis has an incredible plant collection! So many years worth of work.
Silvery-blue agaves are a must.
As is Euphorbia.
And, finally, I like to look at some photos of our own backyard while we're planning—to keep in mind what has done well and to shoot for a cohesive look. These are from Instagram.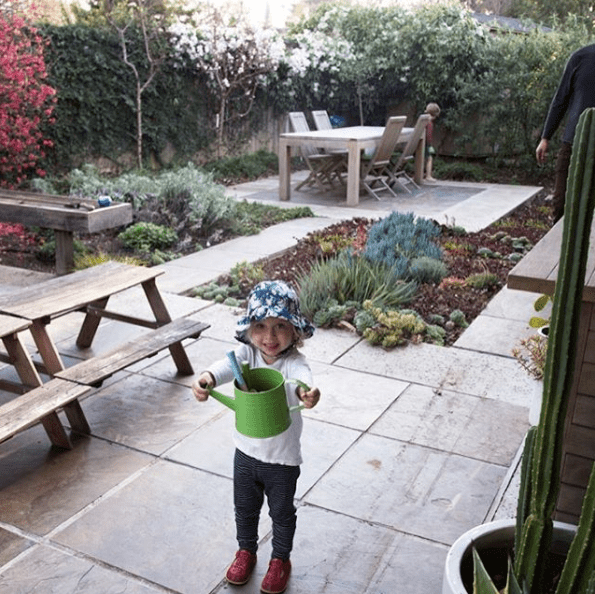 What do you think of these plans? Any opinions, ideas, or cautionary tales to share? 
P.S. More home tours and design ideas. (And #hitherthitherhome)
Related posts: