We're planning a pantry makeover in upcoming weeks, and I don't think my excitement can be overstated. But I'm also nervous about getting it just right. We've been poring over inspiration photos, assessing our needs, and reading jar reviews in anticipation.
Even now, in its less-than-perfect state, opening the pantry up after having cleaned it out or sorted things, everything in its place, can have such a positive effect on my mood. And the reverse is true, too.
Can you relate?
Here are some of the inspiration photos and products I've been looking at, as well as the considerations to weigh. If you have a favorite feature of your pantry—or one you find yourself wishing for—I'd love to hear! I welcome advice.
Our pantry is just beyond the refrigerator, in a pass-through space between the dining room and the kitchen. It's quite deep—we're lucky that it offers lots of storage space—but it's a reach-in, so I haven't distracted myself with any walk-in examples. (Sources: The Local Project and Home Depot)
Inspiration: I think one of the first images that caught my eye a few years ago was Heather Bullard's dish pantry. To have pull out drawers, we will need to open up the frame of the pantry as much as possible. We are going to cut the drywall so that we can access the full width.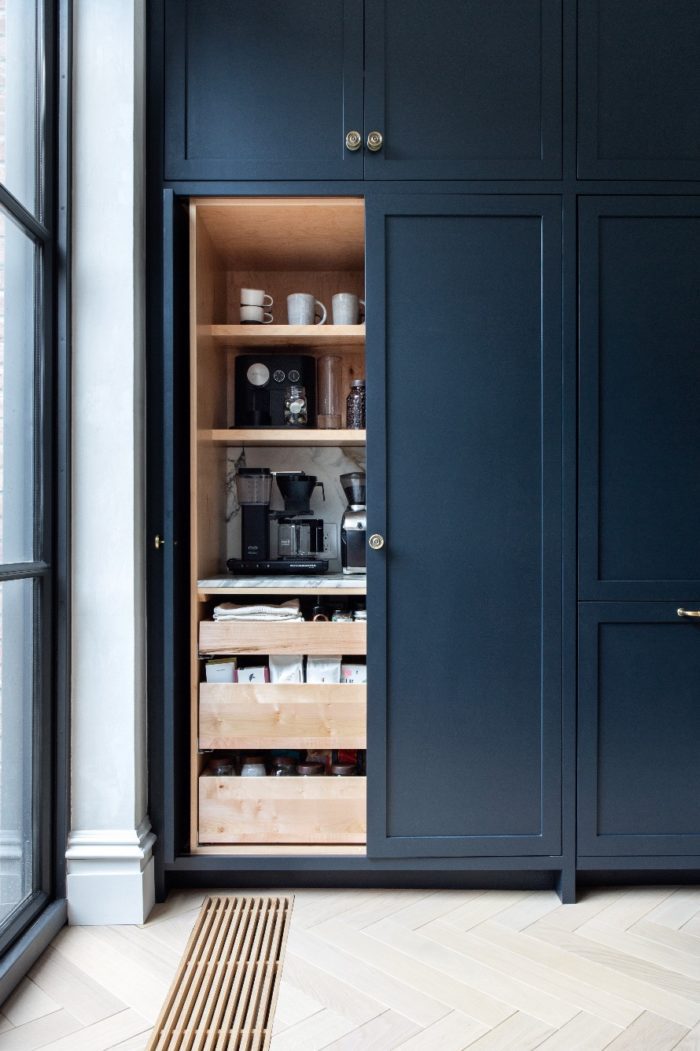 This second example is actually a coffee station (oh to have the space!), but I think the set-up of pull-out drawers on the bottom with shallower shelves up top is the direction in which we're headed. (Source: Eye Swoon)
Storage: We have a goal to make better use of the bulk-bins at our local grocery stores—both of our markets, Nugget and The Davis Co-Op have recently upped their bulk game and there's really no excuse. That said, we have to be realistic (it's a process) and acknowledge that we will still be storing individual snack packs, canned goods, boxed items, and other less "Pinterest-friendly" goods.
But with goals to reduce plastic and single-use items in our home, we want to find a consistent storage system that keeps food fresh and safe, while looking streamlined and uniform. (Source: Decor Demon)
Some of the options we are considering:
Ikea 365+ glass jars. They make them in round and square, though the sides do taper. You can choose snap-on lids or the wood shown here.
Glass jars and paint pens. These first ones are Weck, which work great, but Aron has vetoed the clip options. The second look like Anchor Hawking with Acacia Lids and a silicon seal. Sharpie makes two types of paint pens (oil- and water-based), in fine and medium tips; the water-based paint pens are best for this, as they can be removed with a little scrubbing but they won't smudge off with daily-use. (Photo sources: A Beautiful Mess and Downshiftology)
Other good glass jar options we've been checking out: Traditional Hermetic Glass Storage Jars (the Bormioli are a lot like Ball, but with smooth sides); Anchor Hawking Glass Cracker Jars (screw-on top); Artisan Glass Jars with wood lids (they come in Oak, Walnut, black, or grey). Some of the first two are sold in the bulk section at our local groceries, too, which I take as a good sign.
We've also heard raves about the ProKeeper Baker's Storage Set—sealed, dishwasher-safe, wish a snap-out lever for measuring.
And then there are all the bins and baskets! Tosca makes some pretty ones. (Photo: The White Pad; Blackboard stickers)
Design: Finally, we store more than food in this pantry: up top are vases and jugs; one shelf holds tupperware, cooloer bags, and lunch boxes; and there are bins down low—one with tablecloths and napkins, another with an assortment of drinks, mixers, and bottles of wine.
Because we're working with a cabinet-maker, we could request specific design elements beyond drawers—like an X-rack, or slots for cutting boards—or for stacking up boxes of parchment and foil. We also need to decide on the number of drawers, depth and width. (Source: Apartment34)
Like I said, exciting! But also, overwhelming.
Oh—one more thing: we'd planned to match the new doors to our kitchen cupboards. They're original from 1964 (as shown here), and I think stained plywood doors could match the look. But I'm considering sticking with black chalkboard paint for a little longer (I really enjoy making notes for the kids, writing out our holiday calendar, and marking first and last days of school). I figure we can switch out the doors again down the road. But these all wood images are hard to resist. What do you think? (Source: Desire to Inspire)
Aron and I have a Friday-afternoon date to The Container Store—they're having their big Kitchen Sale right now (25% off essentials)—and I also want to try out their design software with a consultant.
What would you include in your dream pantry? 
P.S. What I learned from Marie Kondo, tackling the chore list, and our laundry makeover.
(Lead Photo from The Container Store)
Related posts: