You might recall, from this past spring, that we had plans to make over the second bathroom. (It had been on our to-do list since we moved in!) We finished things up in late summer—after many, many missteps—and I've finally gotten around to taking some photos to share. Some of you had messaged me about it, and I'm sorry it took me so long!
In the end, we're really happy with how things turned out…
As I mentioned in the planning stage, we wanted to keep the budget relatively low, so we only considered changes that would work within the existing floor plan and plumbing layout. Other goals? This is the bathroom the kids share, and so it would need to be easy to clean. I hoped for a deep tub for baths, and a hand-held shower attachment for rinsing off kids and bath surfaces. Finally, we want to use the opportunity to replace the toilet with a water-wise option.
In terms of style, our home has what I'd describe as an organic-modern style, and the house itself is mid-century modern, so it actually narrowed things down for us—it's not really suited to some expensive materials like marble, and it made sense to steer clear of too many flourishes. Also, I love the warmth of brass, but all of our fixtures elsewhere are chrome or black, so we stuck with those materials. I also wanted it to be in keeping with the look of the master bathroom.
We had made a few short-term aesthetic fixes, painting and adding new hardware to the sink vanity, but a few things have continued to bother me—like the faux-marble bathtub surround and the ill-matching linoleum tile. But perhaps the thing Aron has heard me complain most about is how uninviting it was for taking baths in there. Despite being the only tub in the house, I never have really wanted to spend enough time in there to make it relaxing. The goal was to be taking a bath on Mother's Day!
Here's the before and after…
The in-between, however, was not so simple. When I asked for last-minute advice, many of  you emphasized the importance of working with a good tiler. The number of people who had that as advice should have been telling…
Unfortunately, at that point, we had already made an agreement with someone who turned out to be woefully inexperienced. Not having done our due diligence meant that so many mistakes were made that the bathroom was actually "finished" back in May, but we had to rip out everything and start over again. Problems ranged from unsightly grout lines to improper sealing and an un-level tub. When the paper was pulled off, we saw that they'd scratched and cracked the new tub. We even learned, once it all came out, that they had neglected to attach the drain-closing mechanism to the bath drain. So we wouldn't have been able to keep water in it! It was a disaster, to say the least.
The silver lining was that we had gotten ourselves into this position by trying to save money, so we didn't lose too much on the process. Plus we negotiated with the contractor so that we didn't pay for all of the poor workmanship. Still, we had to repurchase a lot of materials. I wish we'd been more careful, and more attentive, while it was happening to catch the problems sooner.
I think that's probably the reason I hadn't taken "after" photos—the memories of that process give me PTS!
Mirror: Ikea Stockholm Mirror. I actually bought this when we moved into the house, intending it for the living room, and we've held onto it for the bathroom for six years!
Vanity/Sink: Ikea Godmorgan/Odensvik. We used the same combination in our bathroom, so we knew we were happy with it. The drawer storage holds so much! It's designed to float on the wall, but we added support legs in case the kids do a lot of climbing on it. You can also add real-wood fronts to the Ikea sinks from a company like Semi-Handmade, if you like, but this is the Ikea white-stained Oak effect.
Towels: Karla Cement Towels. These are from CB2 and are Turkish-towel inspired, but have a flatweave front and terry cloth back. (The hand towel pictured is from Coyuchi.)
Tiles: Forum Ivory Porcelein, 12×24 (Floor); Villa Artisan Frost Porcelein 4×16 (surround). We picked these out at a Floor & Decor in person and brought home samples to see in the space. We used a Maipei Flexcolor stain-resistant grout.
Bathtub: Kingston Brass 60-inch Alcove Acrylic. We were a little sad to replace our steel tub with acrylic, but this one is beautiful!
Bath/Shower Fixtures: Moen Align Single Handle with the Moen Attract Hand Shower/Showerhead combination (not pictured).
Toilet: Kohler Persuade 1.0 White WaterSense 2-piece toilet. Hard to get too excited about a toilet, but even the plumber couldn't stop saying how nice this one is. There are two flush settings, 1.0 or 1.6 gallons. The 1.0-gallon flush setting reduces water use by more than 30 percent. It has a really small footprint and a skirted trapway for easy cleaning.
Bath Hardware: Wall hooks and toilet paper holder are from CB2. It looks like they no longer carry the exact ones, but they have lots of nice options. 
Shower Curtain: Karla Cement Shower Curtain. We toyed with adding a glass panel—which would look so nice—but Aron pointed out that the kids might appreciate the privacy of a curtain one day. We swapped the standard shower rod for acrylic.
Bath Mat: Geometric Bath Mat
Light Fixture: Matte Black Sconce Vanity 3 Bulb by Illuminate Vintage/Etsy. We searched all over for the right fixture that would use the same electrical box as the previous light and offer comparable brightness (the room doesn't get too much natural light). This shop was wonderful to work with and has a lot of great, modern-looking designs.
Other accessories pictured: Toy Duck, Shampoo/Conditioner, Candle, Jute Stool (no longer available), Brass Planter, Soap Dispenser, and Ceramic Bud Vase.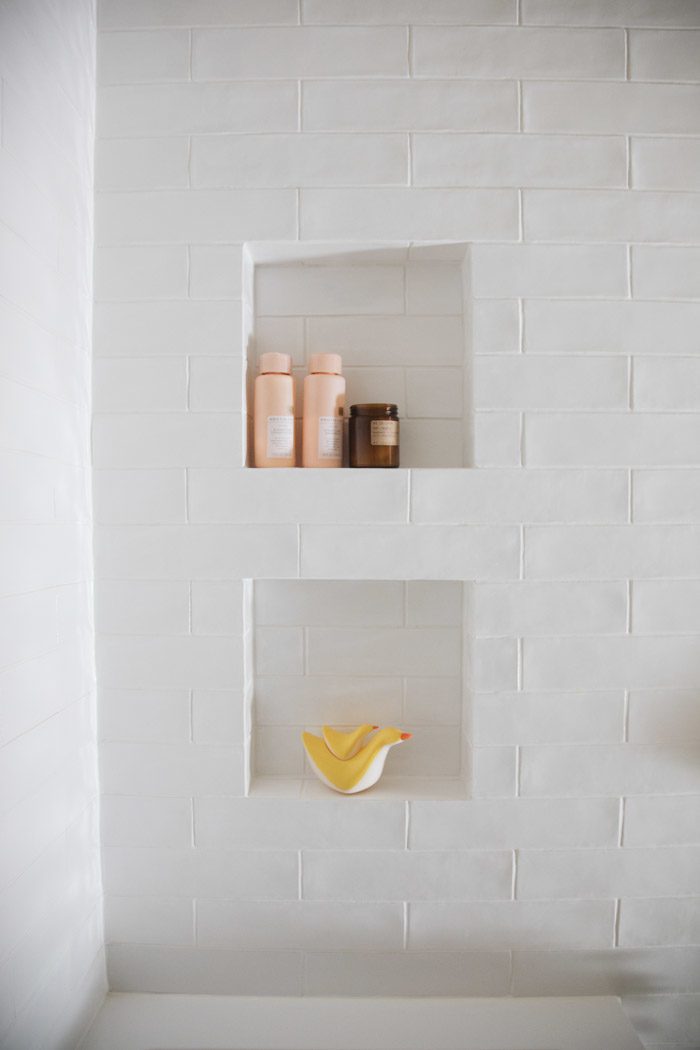 I'm happy to report that the hard work is all in hindsight, and that I love the new, calmer space.
Any bathroom remodel advice to share with others? 
P.S. More Home and Design posts, including how to approach a kitchen remodel and our home tour.
Related posts: