Making over the second bathroom has been on our to-do list since we moved in. We made a few short-term aesthetic fixes, ,painting and adding new hardware to the sink vanity, but a few things have continued to bother me—like the faux-marble bathtub surround and the ill-matching linoleum tile. But perhaps the thing Aron has heard me complain most about is how uninviting it was for taking baths in there. Despite being the only tub in the house, I never have really wanted to spend enough time in there to make it relaxing. I've missed taking baths!
I've been collecting inspiration for months—years—but things just got real. We finally took the plunge, so to speak, and are moving ahead with a makeover just in time for Mother's Day!
Here are some before photos… 
We want to keep the budget relatively low, so everything we do needs to fit within the existing floor plan and plumbing layout. I also want to keep it practical and simple—this will be the bathroom the kids share, and so it needs to be easy to clean. Finally, we want to use the opportunity to replace the toilet with a water-wise option.
Our home has what I'd describe as an organic-modern style, and the house itself is mid-century modern, so it actually narrows things down for us—it's not really suited to some expensive materials like marble, and it makes sense to steer clear of too many flourishes.
I've gone back to the moodboards we created for our master bath and the source options we pulled together for that update. I think it was actually having made those changes that finally gave us the confidence to move ahead. Plus, we have loved the Ikea Godmorgan sink.
Here are some inspiration images I've gathered… 
Everything about this photo is stunning—that tub! the open space!—but it's the tiles that I've been eyeing. We've been looking for subway tiles that give the wall behind the tub a bit more movement.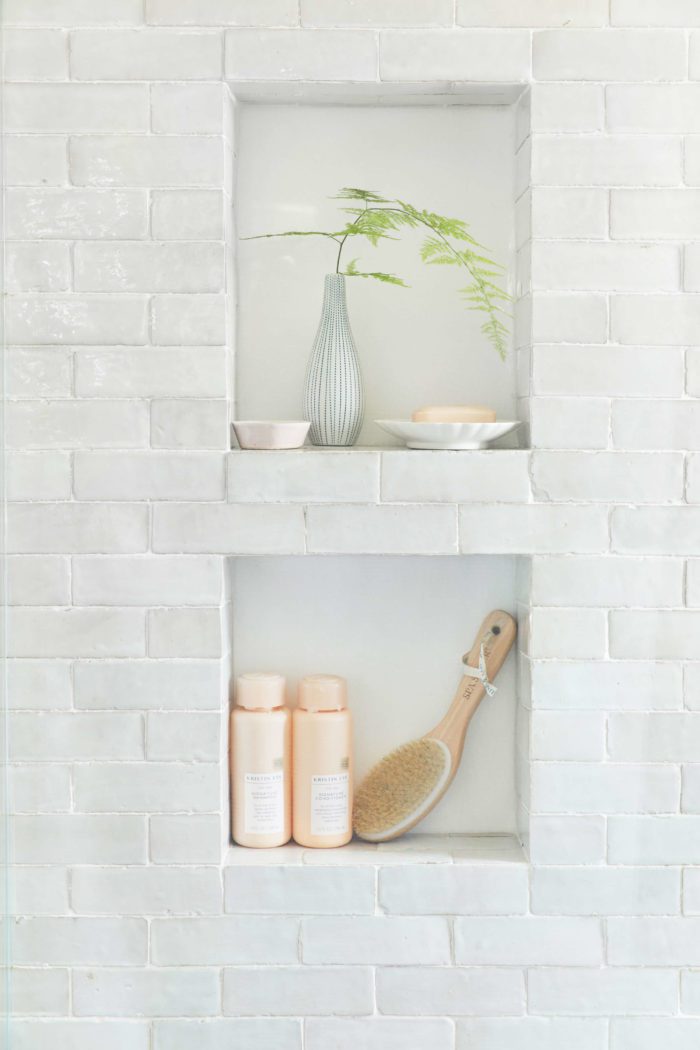 Likewise, the ones Emily Henderson chose for her master bath are lovely! I've held onto this image for the dual cut-outs. We're planning on doing this as well, on the wall facing the shower.
At first we wanted to look into tiling on the face of the existing tub rather than getting a new one, but I worried we'd have major regrets about it when we saw everything else updated. Plus, I was excited to get something deeper. The one we chose got delivered today! (image via Desire to Inspire)
We considered darker floors—like these concrete-grey ones on Studio McGee or the black ones on L2Design—but there's not a lot of natural light in this bathroom and I wanted it to feel as bright as possible. We're going with an ivory porcelain that feels in keeping with the cork floors that are in the hallways and throughout.
Aron pointed out that most of the beautiful bathrooms I'd pinned have large windows and feature a lot of indirect light. Go figure!
I bought the Stockholm mirror from Ikea when it first came out, not quite appreciating just how large it is, and we've been storing it ever since. One day we may need to add a medicine cabinet for more storage, but I think the kids can do without for at least the next 6 or so years so we're going to use it in there! I was encouraged when I spotted it in this bathroom on Apartment 34.
Sidenote: I'm an only child, so I didn't think twice about suggesting we go with a glass shower door (rather than a curtain). We know it would look best, but Aron pointed out that Hudson and Skyler might appreciate the privacy of a shower curtain as they get older. We ordered this one.
We still need to chose the shower head and some white paint for the walls, but it's so exciting to see it finally coming together!
Any words of wisdom before we fully dive in? I'd especially welcome any tips for tiling—we'll be changing the wall and the floor.  
P.S. It just so happens that we were able to get started yesterday, the same day we started framing a bench in the front yard. And there's a third project—a little patio upgrade off of our bedroom—that I'm looking forward to sharing next week. There's a lot happening around here all of the sudden! Here are some previous posts about our home.
[Lead image via
Emily Henderson
]
Related posts: