In "5 Things," I'll ask locals from cities all over the world to share insider travel tips on where to eat, shop, stay, and play in their neighborhoods (plus, what to pack to make the adventure complete). This week, Kate Naylor, a writer and podcast producer, shows us around Atlanta.
5 Things: Atlanta
by Kate Naylor
I first visited Atlanta in the summer of 2010 when I was in a band. The city was one of many stops on our tour. I remember assuming it was going to feel like Los Angeles, where I'm from, but being extremely surprised as we drove the highway into town. Never in my life had I seen so much greenery! I felt like I had transported into an entire different world.
I just so happened to marry a man from the outskirts of Atlanta, so visiting often became one of my favorite pastimes. It ended up being a stop on our honeymoon—a Southern road trip through Savannah and Charleston. And this city is charming for reasons even I can't explain; it's a feeling you have to experience at least once. Flash-forward three years and we now reside in this dreamy town.
The South is the perfect place to live. We know a thing or two about relaxing down here—we'll invite you to rocking-chair-filled, screened-in, wrap-around-porches for some sweet tea—but we also know what's trending. We have plenty of great BBQ, we love our famous peaches, and we also hold hidden neighborhoods filled with beautifully crafted plates from top chefs and historic architecture, worthy of all the Instagram posts.
We're home of the first Chipotle, Moe's, and Krispy Kreme (hello, comfort foods!) and we house the headquarters of companies like Chik-fil-a, Turner Broadcasting, CNN, and Coca-Cola. There's endless opportunities in this city on the rise, so grab a sweet tea, re-read Gone With the Wind, and head for Atlanta!
SHOP
Atlanta is known for its hustle and bustle which means traffic isn't always great. Therefore, I love being able to stop at one place and knock-out several of my needs.
Ponce City Market is one of my favorite go-tos. This place is a food hall, a stop on the Atlanta Beltline (which I'll explain later!), and it has an amusement park on the roof. That's right, on the roof. Grab a shake from Honey Suckle (you even get to keep the glass mason jar); a boozy-slushie from the King of Pops bar; or a bite to eat from 60's inspired Mercury Cafe (ask for a cocktail to-go), all while popping into local boutiques like Citizen Supply, a must for well-curated, local and handmade goods, and Archer Paper Goods for the best stationery and gifts. Once you've got a belly full and your shopping done, head up to the rooftop for miniature golf, fan-faire games, and some adventurous rides that give the best view of Atlanta.
Honestly, you'll want to move in as the architecture is dreamy. Oh wait—you can! There's a ton of apartments mixed into this beauty.
Tucked away in Old Fourth Ward is another multi-purpose shop, Chrome Yellow Trading. Leather goods, felt pendants, perfectly tailored clothing and locally made candles are just a few of things you'll be rushing to buy. One of the perks of Chrome Yellow Trading? They double as a coffee shop. These folks serve Stumptown and even have the cold brew on tap, as well as some of the best-sourced pastries from the farmers market.
Around the corner from an Urban Outfitters in Virginia Highlands is a boutique called Young Blood. This shop holds a little bit of everything—gorgeous jewelry, stationery, clever prints for your house and, my favorite, plants.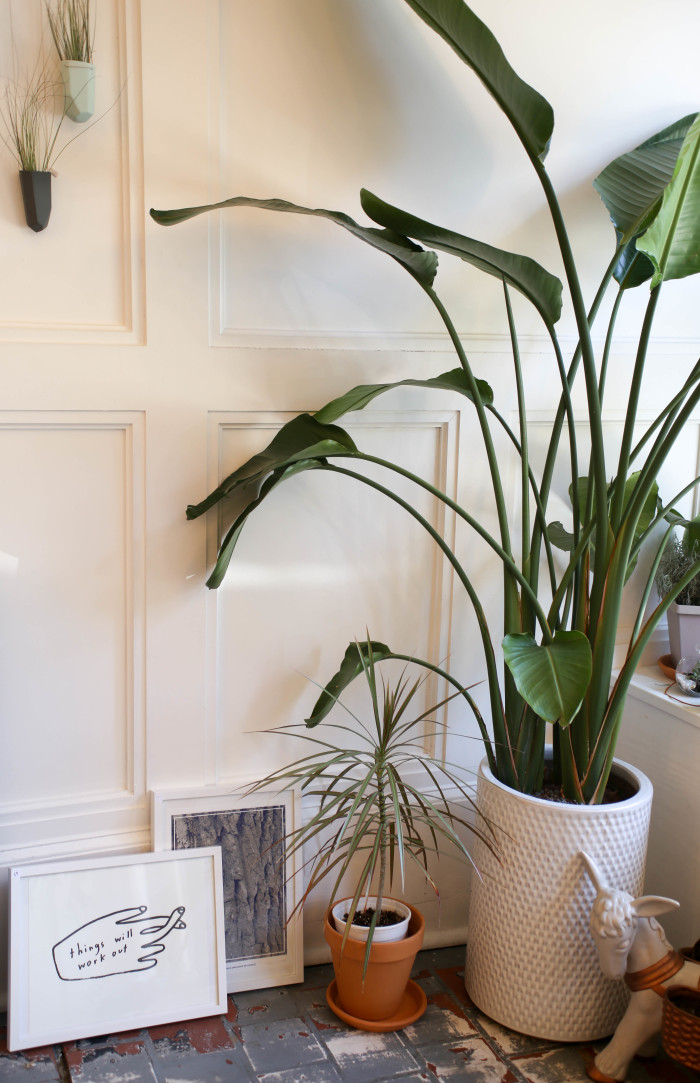 EAT
Brunch is definitely something you won't want to miss in Atlanta. Bread and Butterfly is one of my favorite places for its breakfast treats, French-themed decor, and its always spot-on playlists. Another favorite is Homegrown—a quirky hole-in-the-wall that is totally worth the wait. Be sure to get the fried-green tomatoes: they're the best.
Lady Bird Grove and Mess Hall is one of my favorites for dinner, especially when the weather is great outside because this place has one of the best patios. Give the burger a try—it's delicious.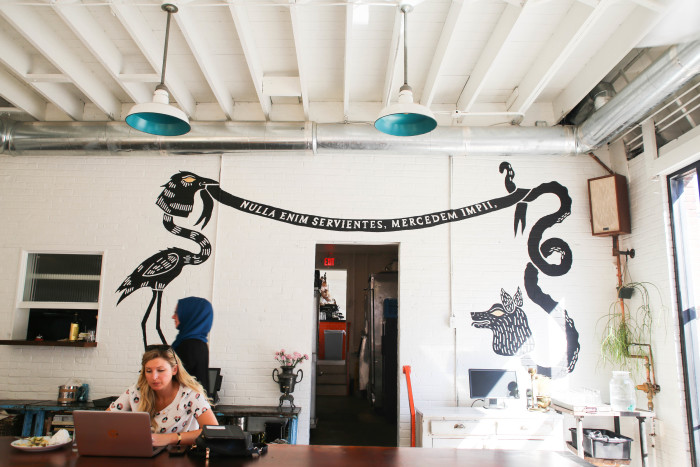 8 Arm is a new eatery with its own coffee shop right next door. A casual spot by day with a more upscale, polished vibe at night—this place offers local seafood eats and divine appetizers that include my personal favorite, burrata. The menu changes weekly (if not daily), but as far as I'm concerned, you can't go wrong with any of the choices.
Buford Highway is home to one of the highest concentration of foreign-born residents in the country so you can bet that if you're craving authentic, ethnic food, you're going to find it here. If you have some time and a car to explore this long stretch of road, you're going to find some hole-in-the-wall, memorable meals to write home about.
PLAY
Atlanta doesn't have a theme like most big cities. Los Angeles loves their shopping, Denver and their outdoor activities. Atlanta is definitely a hodgepodge but I think it's what makes this city so great! Want A-list comedians doing stand up Wednesday night? We've got it. Want to go to a music festival this weekend in the park? Sure, we're doing that too. Dream of being an extra in a Blockbuster hit? We've already signed you up!
Celebrity comedians like Chris Tucker and Ron White have been known to pop in unexpectedly but you don't even need to rely on them for a good comedy show. Laughing Skull inside The Vortex has not only some of the best-scheduled comedians (including open-mic nights) but delicious burgers and yes, of all things, funnel cake fries.
Piedmont Park and Olympic Centennial Parks are great to take a picnic to and relax. Around these areas are some other things to add to your agenda: Atlanta Botanical Garden and High Museum of Art. If you're feeling really outdoorsy, you can "Shoot the Hooch" which means you'll float down the Chattahoochee river. Yes, it's a little quirky, but it's a classic summer must-do when in Atlanta.
Atlanta has been nicknamed "the Hollywood of the South" which not only means celebrity sightings are a common occurrence, but you can take advantage of self-guided or paid tours of scenes from some of your favorite shows and films! Hopefully, you're a Walking Dead fan, as right in the middle of the city, you'll find the show's iconic skyline view.
The Beltline, as previously mentioned, is a great way to get a feel of the city while walking or renting a bicycle. This path goes through all of in-town which makes it easy to stop at different shops and restaurants to rest your feet. While traveling through the city, keep an eye out for all of the funky street art—you'll surprised at the number of murals you'll find.
Before you visit, be sure to check out the concert schedule at venues like The Tabernacle, The Earl and historic Fox Theatre. If you're feeling spontaneous, grab a drink at Smiths Olde Bar, where live music is bound to be playing every night.
STAY
Folks in Atlanta will make you feel like family the second you walk into the door. Which means, the AirBNB choices in Atlanta are overwhelming. There are so many to chose from; everyone wants to hosts travelers.
If you're here for a special occasion, or, you're like me and just want to cross this off your bucket list—you have to stay at this treehouse. Not only is it close to the center of Atlanta which makes it very practical, it also caters to the serene, laid-back vibe you're hoping for when visiting Georgia.
Since we're all about that Southern charm, you'll find endless options of bed and breakfasts, but don't fret! They're not all covered in floral wallpaper with ruffle curtains (unless you're into that sort of thing). Stay a night at the historic Social Goat (not to be confused with the Goat Farm) or the trendy Ellis Hotel. Wherever you decide to stay, try to pick a boutique hotel—that way, you'll have a one-of-a-kind experience!
PACK
Bring a camera to capture all the history and scenery you'll be seeing; humidity proof sunscreen because most days are sunny in Atlanta; bandaids because you'll likely be doing a lot of walking and it's best to be prepared; Purification Essential Oil as an alternative to generic bug spray; thin sweater, comfortable shoes, jeans and a backpack for carrying all the goodies you scoop up during the day! Other suggested items: umbrella, a "night out on the town" outfit, humidity proof hairspray, and an open mind—you'll be exposed to a variety of culture in this Southern city.
What is predictable of Atlanta is that you'll have the best time and be welcomed so well, you won't want to leave. What isn't so predictable in Atlanta, is the weather. Be sure to check it the day before you leave as things change quickly here. They don't call us "Hotlanta" for nothing! Summers are extremely hot and humid, and even in the middle of winter we'll still hit 75.
In terms of being under or overdressed, you really can't go wrong. Atlanta has its fair share of fashionable citizens but you'll see a good mix of athleisure-wear too. It's best to just be yourself and dress how you feel comfortable. Atlanta is known for it's nighttime activities, so you won't regret bringing a few "cocktail hour" pieces just in case.
Have fun out there!
Kate is a daydreamer who spends too much time on Pinterest. She is a writer and podcast producer in the tech industry and is a die-hard fan of live music, fashion, chick-lit, and pizza. While she technically lives in Atlanta, she can often be found traveling with her husband (who almost always predicts her suitcase will be over the weight limit and is almost always right). 
Thank you, Kate! Can't wait to use this as a guide for a visit. I've been especially curious about Atlanta since our good friends moved out that way. I'm happy to hear they've landed in such a wonderful city (though I'm more worried than ever that they'll never come back)! 
And thank you to Sarah Ann Noel for coordinating this series. 
[All images by Kate Naylor, with exception: Secluded Treehouse by Lindsey Apple. Sources in packing photo: "I did my best" sweatshirt, Converse high tops, and Baggu backpack (similar)]
P.S. See the entire 5 Things Series.
Related posts: