What's your family's Thanksgiving outfit style? Do you dress up, or put on elastic-waisted pants and a loose sweater?
This take on it, from Emily Farra, Vogue Senior Fashion News Writer, resonated with me: "No matter the occasion, I'm all about 'doing you' and wearing what makes you happy. But something about the holidays makes me want to go the polished and classic route—and not just to avoid questions about my outfit (an acquaintance recently saw my wide-leg jeans and said, a little backhandedly, 'Are these something I should know about?'). In my mind, Thanksgiving looks like a Ralph Lauren ad: Fair Isle sweaters, leather boots, a roaring fire, and, in an ideal world, a few horses."
What about you? I'm not sure what I'll pick out yet for our family dinner yet, but here are some different routes I could see taking…
Totally easygoing? Plaid flannel. I've told myself I'm not allowed to bring home anymore buffalo check, but I really love how it's paired with a neck-tied bow, here.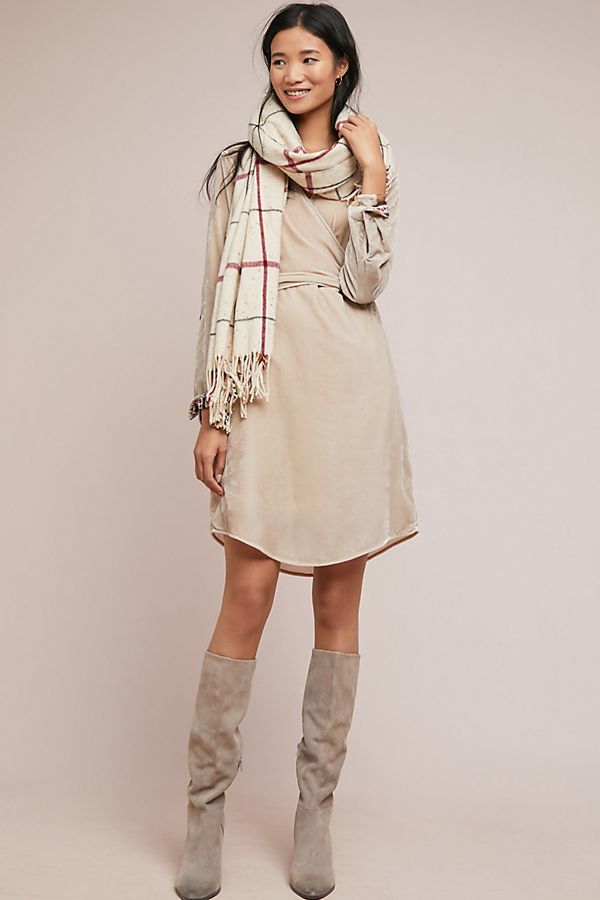 Cool and casual, but still special: shades of cream and caramel—like this chunky turtleneck (here's a more reasonable version), or suede dress.
The monochromatic look, in general, looks pretty chic. And I'm a sucker for those special bell sleeves on this Dôen sweater. (I'm pretty excited about this marled indigo sweater, with pleated sleeves, that I just picked up.)
Also: Corduroy pants.
Denim paired with a silky top or a stylish sweater tends to be a pretty safe bet. This one is so pretty!
If jeans are out of the question, one could go with dark wide-leg pants, or an A-line skirt.
And you can't go wrong with black silk and black pants. This top may go on my wishlist.
Fall florals have been really calling out to me lately. I've had this floral print dress open in my browser for weeks.
Of course, there's no rule that you have to wear a fall palette or rust and eggplant if those aren't your thing. Coco Chanel famously said "The best color in the world is the one that looks good on you." This poppy color dress feels a bit less expected, but could still be worn in a way befitting a fall celebration.
[Update: this one has sold out, but
this
or
this
might be a good alternative]
I like the idea of a tunic dress, like this, that could be worn as is in warmer climates or layered with a long cardigan sweater, and boots or tights in cooler ones.
(By the way, if you like the idea of layering leggings under a tunic, Anthropologie carries velvet ones.)
We tend to have a more dressed-down Thanksgiving, but if I were to go fancy, I might consider something in a deep-stained velvet, like this or this.
If you're invited to someone else's house and are unsure of what to wear, the best plan, according to Vogue, is to go with an ensemble similar to the motto of the first-date look (and then be a good guest): "Your best bet? A fail-safe black frock (which you can use all throughout cocktail and holiday party season) or a pretty A-line skirt and charming top. If the occasion has a relaxed dress code, throw on a pair of flares and a natty turtleneck. The most important thing? Always help with the cleanup: A polite gesture goes a lot further than any perfectly put-together outfit."
I'm curious, what is your Thanksgiving (or other family-holiday dinner) style? Which of these would you wear? 
P.S. GQ did a "What Women Want You to Wear to Thanksgiving" for men. And more style posts from the archives.
[Lead Photo:
Sienna Jumper
by Sézane]
Related posts: