We were sorry to leave our place among the olive trees, but we weren't going far. To be honest, I had no idea just how close the two villages I'd chosen for our last week in Puglia would be. With little guidance as to which of the many seaside spots would suit us best, the process of choosing wasn't far off from pointing randomly at the map.
I'd liked the look of Santa Cesarea, with its Moorish dome of the nineteenth-century Villa Sticchi clinging to the rocks, overlooking the Adriatic; and I'd found a well-priced hotel, with sea views and a restaurant that had rooms available. A combination of Google Images and hotel booking sites led us to what turned out to be a lovely jumping off point for more sightseeing on the Adriatic coast of the Salento—the heel of Italy, the peninsula of Puglia.
Santa Cesarea's claim to fame is its sulphurous water springs, coming from the four natural caves along the coast, and many visitors still come to take in the waters—specialized medical treatments that are often covered by insurance. Our hotel stay included discounts—and even our children could have partaken—should we have been so inclined.
We dropped our bags at the Est Hotel, and—with our bathingsuits already on—drove over to Bagno Marina Archi.
I'd spotted Bagno Marino Archi in my image search—a lido perched inside an old tuff quarry, smoothed by the currents—and emailed our hotel in advance of our stay to request that they make us reservations for sun loungers and an umbrella, as well as for lunch, on the day of our arrival. It turns out it wouldn't have been a problem had we just shown up, but I wasn't sure how crowded it would be in June.
The difference in crowds between June and July/August seems to be dramatic, from what I can tell. June is not officially summer here—despite the sunshine offering contrary evidence. For example, there was a sea-water swimming pool that wouldn't open for a few more weeks.
Hudson jumped in the sea immediately, excited to swim over to the floating island. The wind was picking up, however, and the waves deterred Skyler. Eventually they grew strong enough that the lifeguard pulled the island in and put up the red flags—our cue to head inside the lido's restaurant for lunch.
We'd been told by more than a few people that the pizzas at Marina Archi were some of the best in town, so we each ordered our own. The crust was wonderful! But they were enormous, so I'm afraid we left a lot behind. I confess that my memory of that lunch will always be tinged with some regret: there was a children's play area at the lido where Hudson got blue marker everywhere and, in hindsight, we overreacted. Angry words, lots of tears… it was not our finest moment. I mention this simply in the spirit of transparency: all of the usual challenges that come with being with kids all day still come with them on vacation.
So while Bagno Marino Archi was stunning, its exposure to the increasing onshore winds combined with our frustrations at lunch prompted us to make a move: after a few hours, we decided to drive back to Porto Badisco for the afternoon.
We'd so enjoyed our time there before, and knew that it would be sheltered from the wind. It was just the reset we all needed and we lingered til the end of the day.
That night, for dinner, we took advantage of there being a restaurant at the hotel: we got appetizers and drinks with the kids on the rooftop and took in the view before an early-ish bedtime. Then, because the restaurant was next door to our room (we shared a large terrace), Aron and I were able to go out for a later, longer meal after the kids were asleep.
I think everybody was ready for an earlier bedtime.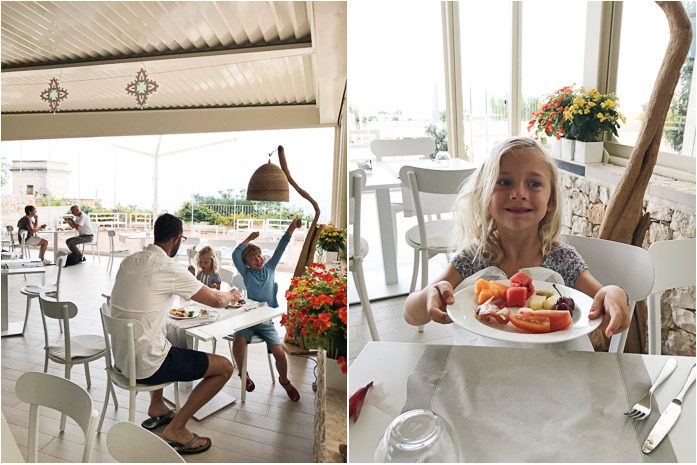 It was nice to switch between rental homes and hotels, with a particular perk of the latter being a few wonderful breakfast buffets. I couldn't get enough of all the yogurts and cheeses—burratini and mozzarella in abundance! Hudson made a rainbow plate of fruit, and sprinkled it with mini balls of mozzarella.
That morning, we started our day in the bay of Porto Miggiano—one of the most beautiful beaches I've ever seen. Clear water with dramatic cliffs all around, it was absolutely gorgeous!
The walk down is pretty hairy with kids—a steep staircase with a huge drop to one side—so, after we'd escorted Hudson and Skyler to the shore, Aron and I took turns going back up to full take in the view again. (We were each too focused on hand-holding before.)
It's right next to 19 Summer Club, a pool that would be an easy place for families to spend the day, and in whose parking lot we parked for the walk down.
After our swim, we decided to drive back to Otranto, Italy's easternmost town, which we'd briefly stopped in on our way south from Lecce earlier in the week.
I was charmed instantly: it seemed to have a wonderful mix of history and holiday-fare. Beyond its thick perimeter walls, we found a maze of streets filled with shops (a mix of sandals, tchotchkes, local food… catering to tourists), a small port bordered by sea-front promenades and sandy beaches, and an incredible cathedral.
The Romanesque cathedral, dating back to 1088, was often highlighted in guidebooks for its display of the bones of 813 martyrs behind its altar.
In 1480, a Turkish fleet of around 150 ships carrying 18,000 soldiers landed to lay siege to the town. The resistance and resilience of the town's folk is stuff of legend (depicted on a statue in the harbor), but after two weeks of fighting, the soldiers stormed the castle and all males over 15 were murdered, and the women and children were sold into slavery. 800 survivors barricaded themselves inside the Cathedral and, unwilling to renounce their faith, marched to the hill of Minerva where they were beheaded. We told an abbreviated version of the story to Skyler and Hudson, and I think it so shocked them that they asked us to repeat it many times.
The rest of the Cathedral is no less fascinating: its medieval mosaic floor, created in the 12th century to feature the Tree of Life, was like no other I'd ever seen. Apparently its design would have been appropriate for such a hub of maritime trade, "a city where Catholics, Greek Orthodox communities, Jew, and Muslims lived and worked together." It features "images drawn from a range of sources that include the Old Testament, medieval bestiaries, 'Roman d'Alexandre,' and the Matter of France." (Italian Ways)
After visiting the cathedral, we strolled down to the port for some gelato (don't miss the wonderful flavors at Cavour Artisan Ice Cream). Locals were swimming in the breakwater all around the shore, even as the lidos were emptying out.
We didn't go swimming on either of our visits, but we did stop for lunch and to let the kids play at the playground in the center square—one of the few we saw during our travels. There were kiosks with candy for treats after, and Aron and I had some espresso at the cute little Caffe Sud Est—we'd discovered one of our favorite afternoon treats to be Caffe Lecesse (or caffe ghiacioo con latte di mandorla). I found a post about it: espresso with ice and almond milk. (We'd also grown accustomed to ordering espresso at the bar multiple times a day.)
We considered staying in Otranto for dinner—and may have had there been a reservation available at the recommended L'Altro Baffo, but decided we'd rather head back for another early-ish dinner at our hotel.
The kids were pretty thrilled to share another whole grilled fish and our waiter couldn't have been kinder about helping them get a good look at the bones and whatnot. They even moved them to their own table for a while and treated them like a little old couple.
The next morning we drove back up the coast, north to Polignano a Mare—which was close to our first stop on the peninsula, Ostuni.
It was funny to think that this was probably the place that first made us think to visit Puglia: I'd seen the iconic view of its deep-set beach years ago and had pinned it away on a wishlist.
Unfortunately I wasn't the only one. The secret is out. Of all the towns we'd been to, this "Pearl of the Adriatic" was by far the most crowded. It took away from its charm a bit, but not from its beauty.
I'd happened upon a rental that overlooked the beach. It was just right for our one night in town, but it was a little tricky to get to. We arrived on a Sunday, when the main road is closed to cars and we spent a good deal of time trying to find our way into the heart of the city, close to the old town. We were so grateful that our hotel had a carpark on the edge of the closed roads.
We threw on our suits and walked down to the cove immediately, but the wind and the waves were fierce! Aron and Hudson went out into the water for a bit—which was nerve-wracking to watch, as the surf pounded—before we all took refuge on the warm rocks. We'd been reading a version of The Odyssey written for kids (highly recommended) and it was the perfect place to hear about Odysseus losing his men to Scylla and Charybdis and climbing out of the water into a cave. We weren't far from the Strait of Messina, after all!
Top things to do in Polignano a Mare: There's an atmospheric centro storico to wander about and get lost in…
… and an endless supply of breathtaking seaside views.
I've heard it's also a great place to go out on a boat and look back at the town and into its grottoes from the sea. We found ourselves trying to imagine calmer seas.
Polignano is the birthplace of the singer Domenico Modugno, who became famous with his "Nel blu dipinto di blu," (or "Volare"). And I dare anyone to go by his statue without singing that one verse… "Volare, oh, oh… Cantare, oh oh oh."
The most famous restaurant in town is probably the Grotta Palazzese, where tables are sheltered inside the vault of the cave that overlooks the sea.
We had drinks and people-watched outside the centro storico, and then dinner just inside the walls at Osteria dei Mulini—a nice spot for seafood and fresh pasta.
The next morning, after one more look at that famous view, we grabbed some wonderful coffee and cornetti at the counter of Super Mago del Gelo Mario Campanella (which apparently translates to The Super Wizard of Frost as he's known for his granita), and drove just slightly out of town to see the nearby Abbey.
The Abbey of San Vito, three miles north of Polignano, sits at the top of a small cove with anchored fishing boats. There's a watchtower at the mouth of the cove and some protected swimming areas that would have been better suited to the kids, had we visited earlier. It seemed to be a hidden gem.
We had a long drive back to Rome, however, so we decided to press on.
We did make one other stop before returning to the eternal city: Trani, just north of Bari. I'd not seen Trani in any of the guidebooks I'd looked at and yet it was such a beautiful city. There was a clearly an established tourist trade in town (note the ferris wheel!), but perhaps the tourists are largely Italian. It made for a lovely lunch stop—we had grilled octopus and pasta on the lungomare in the harbor.
I would have happily stopped here longer. I loved the architecture and all of the pedestrianized streets. It was just a reminder of how much more we had yet to see in Puglia, of how many other amazing little villages there must be on the other coast, for example—that of the Ionian sea—which we never made it to! Or places like the Torre Guaceto Nature Reserve, with miles of sandy beach and a protected marine reserve (with flocks of flamingos passing through!).
I suppose we'll have to come back.
Twist my arm.
(A few souvenirs from the trip.)
Have you been to Puglia? Which towns were your favorite? What advice would you give? 
Previously: Rome; Matera and Herculaneum; Valle d'Itria & Lecce; Puglia (the Salento, part one)
Also from Italy: Sardinia, Tuscany, Positano and the Amalfi Coast, Rome, where to shop in Venice, and our first trip together to Italy, with stops in Venice, Cinque Terre, and Florence. Also, some thoughts on travel (in Italy and beyond) with kids.
Related posts: