We've got a lot of travel coming up this summer, so I've started thinking about what clothes I'll be bringing along and what I might still need.
I always want to pack new things and end up shopping at the last minute, but then I end up wearing so many of the tried-and-true. Recall that white boxy shirt I wore almost every day last summer? I could have worn that every day on our Mexico trip and practically did.
I've actually discovered that it's really helpful to test-run things before they come along, so that I can see how I feel in them, make sure they're comfortable, and perhaps check out how they look in a few photos. But—and I know this is silly, but it's true—I find it can be a little tricky because if I start wearing and washing it too much, it doesn't feel new anymore and I find myself coveting that new thing to pull out of my suitcase.
I just picked up a bunch of new items from Boden's Summer catalogue and I have started wearing them the past few weeks to see what's going to become that thing I choose to put on over and over again. I asked my talented friend, Susan, to come over and take some pictures to share…
So far these overalls and these lace-up espadrilles are tying for the lead in the category of "most-reached-for."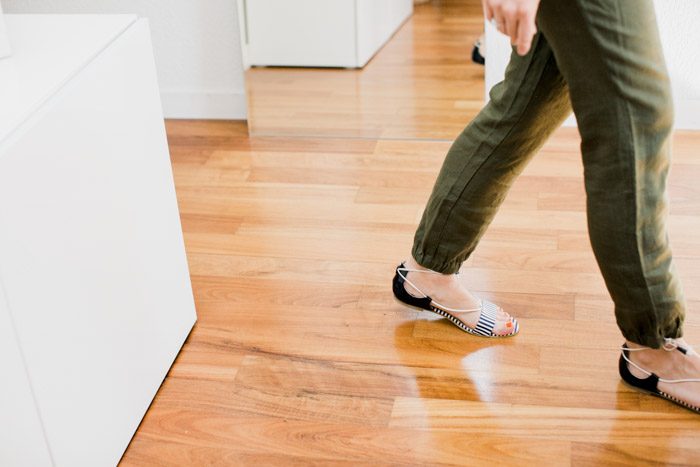 I also got two pairs of their Lottie linen pants—in army green and blue—as an alternative to shorts when it gets hot. I tend to avoid shorts, and they're not as versatile for travel, so I'm always on the hunt for a good pair of light non-jeans. I really like these—I'd recommend sizing down, because natural linen does tend to stretch with wear.
[Also pictured: Striped shirt (
similar
) /
red suede clutch
/
sunglasses
/ hat (
similar
) /
Sienna sandals
]
I brought this blue jumpsuit to Vegas and it could easily be dressed up or down.
Travel tip: I sometimes pack a small spritzer with purified water (or you could use a nice-smelling linen water) for using after hanging things up, to get out the creases.
When I pack, I like to lay everything out and think about how things can mix-and-match. I think this has been roughly my preferred color palette for a few years now—in fact you probably recognize my bathing suit there, if you've been reading for a while. White and blue and brown—or black when it's cooler—with some orangey-red or army green pops.
Do you have a few things you pack every time you travel? Or do you look for something new? Do you stick to a palette? 
If you go with anything from Boden, they've offered to give Hither & Thither readers 20% off full price items this week! Just use the code 4H4T at checkout for 20% off + free shipping and returns over $49.
(Pictured: Sophia Bag / white linen popover / chambray Broderie top / Hazel Espadrille / Lottie linen pants / Sorrento Bathing Suit (this color is sold out) / Sienna sandals / Rebecca Jumpsuit / Mya Jersey Dress / suede clutch / Lottie linen pants / hat / suitcase)
Thank you to Boden for sponsoring this post. All opinions are my own. 
Photos by Susan Yee, En Pointe Photography. Thank you, Susan! 
Related posts: