One of the (many) things I took away from our trip to Scandinavia was the value of really hard-working, but still good-looking rain gear. They have it dialed in!
Each country seemed to have its own national brand, its own fashionable take on this particular piece of outerwear. There was no sacrificing style, and yet style alone wouldn't make the cut—it must actually keep you dry, without the aid of an umbrella.
Here were the names I quickly learned…
Stutterheim was the icon in Sweden. Their Stockholm and Mosebacke cuts were everywhere. Each raincoat is handmade in rubberized cotton, with double welded seams, snap closures, and cotton drawstrings. Heavy-duty yet and so slick.
The lead photo is a Stutterheim carried by Madewell.
Rains was our discovery in Copenhagen. They carry a range of styles—trench, poncho, parka, anorak, and windbreaker—that are super lightweight (packable) and waterproof. I got myself a navy trench while we were there and it kept me dry while riding bikes in the rain! I'd always wondered why there weren't more trench coats that actually keep you dry.
I also really love their waterproof backpacks.
Illse Jacobsen is another Danish brand, probably best known for handmade rubber rainboots, with their distinctive laces. (Another raincoat style in some great colors.)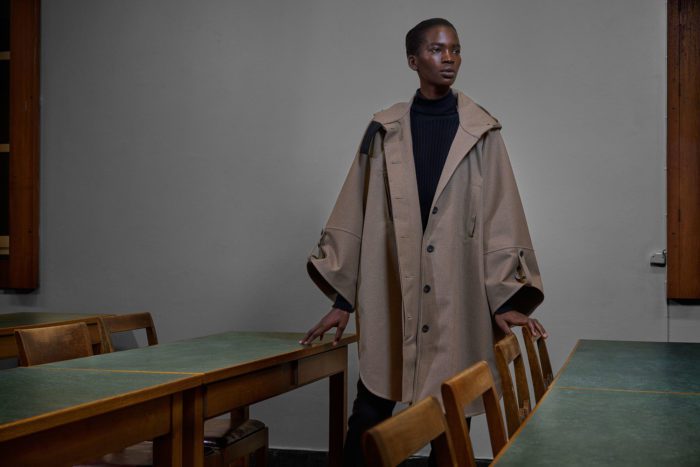 Norwegian Rain is perhaps the priciest of this bunch, but also the most fashion-forward. They're made in Bergen, one of the wettest cities in the world and have a reputation for being waterproof, breathable, and beautiful.
Any favorites I'm missing? 
P.S. Rainboots beyond the wellies. (I packed and wore these all over Scandinavia.) And our own rainy day in Bergen.
[Stutterheim photos:
Madewell
and
Truelane
; all others are from the brand's sites]
Related posts: