If you ask my mom about the gifts I gave her as a child, one story she might share is how I'd often look for things around the house that I thought were being under-utilized and present them as new. Of course I wasn't fooling anybody when I'd gather up lipsticks that looked practically new and wrap them up in tissue, but she'd pretend for my sake to be surprised.
I don't advise re-gifting toiletries once you're over the age of 6 or so, but there is something to be said for presentation. You could, for example, wrap a jar of bath salts and a bottle of wine in the bow of her bathrobe to suggest she enjoy a quiet soak. Or tuck her favorite blanket and a good book into one of her baskets with something sweet to nibble, suggesting she escape to her favorite reading spot in the afternoon. On the other hand—and I could be wrong—I think a lot of mothers want to spend the majority of Mother's Day with her family, but appreciate the promise of little time to herself to feel pampered, whether later on that day or further in the future.
I'm partnering with Ghirardelli to spread the word about their new Savor the Dark Book Club subscription boxes this summer, and it would actually work perfectly for this! And they could handle the presentation. Along with Quarterly Co., and Crown Publishing, Ghirardelli is pairing their Intense Dark Chocolates with author-signed copies of new, seasonal book releases.
While this specific box won't arrive in time for Mother's Day, the deadline for ordering their June box is Friday, so you could plan for this Sunday together and then tuck a note in a card with the promise of alone-time to come: a monthly subscription that will send her a summer read and some chocolate for savoring.
Next month the book offering is, appropriately, Miranda Beverly Whittemore's June, "a tale of an unexpected inheritance from a movie star that pulls a young woman into a world of wealth, celebrity, and haunting secrets," paired with Intense Dark Cabernet Matinee, 72% Cacao Twilight Delight, and Hazelnut Heaven—and some bonus items.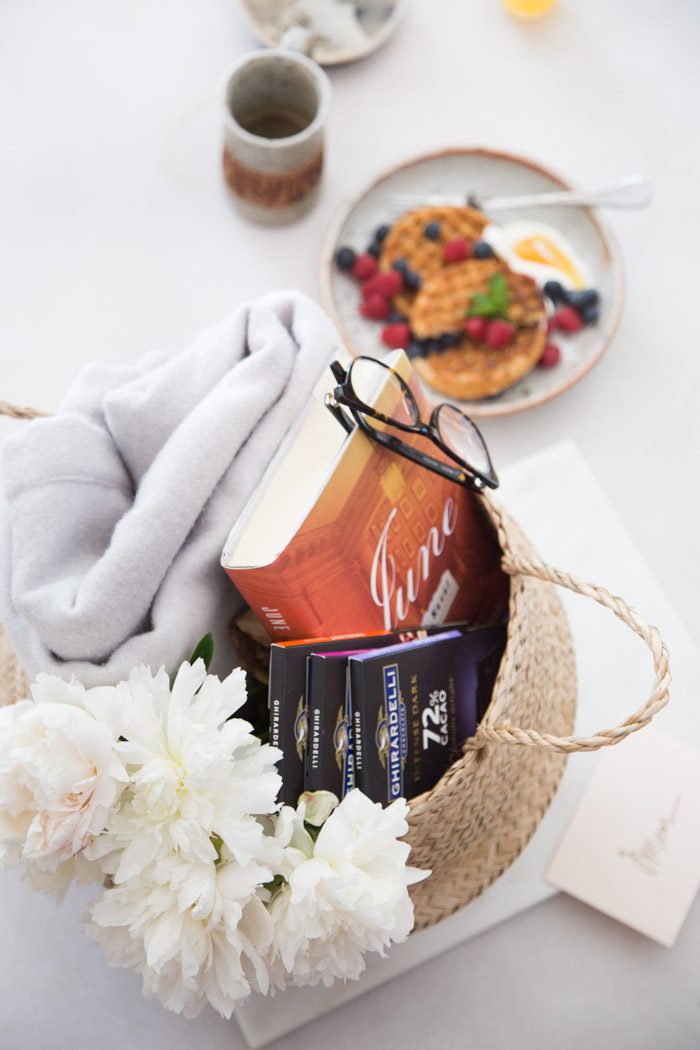 Peonies never hurt, either.
Did anybody else used to regift items from around the house to your parents and hope they wouldn't notice? I'm pretty sure I wrapped up some of her jewelry once—which is at least better than used lipstick. 
Some inspiration for Mother's Day breakfast dishes coming up soon…
Thank you to Ghirardelli for supporting this content and providing the product for this post. You can order June and July's Savor the Dark Book Club boxes at Quarterly Co., and discover ways to pair the Intense Dark flavors with food and beverages at Ghirardelli. #IntenseDark 
Related posts: