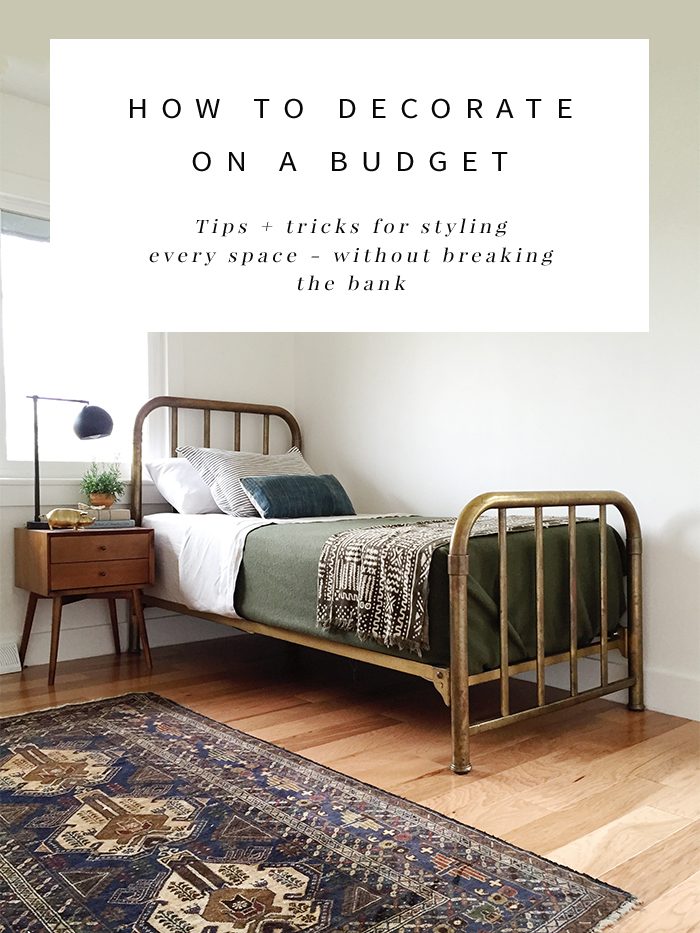 by Anna Smith of Annabode + Co.
Whether you're moving into a new into a new space or rethinking your current one, deciding on a realistic budget can be a challenge—it's by far the hardest question my clients have to answer. I love finding creative ways to save money in clients' homes (and in mine as well)—and it's actually easier than you might think! My general rule is to spend a little more on the most hard-wearing, used items in your home — your mattress and appliances, for example. Then, if you're on a budget, try to save everywhere else.
How exactly do you save money when designing your home? There are a million different small ways (literally—Pinterest is full of them), but here are my personal tips for decorating on a tight budget…
1. Rearrange your furniture.
Sometimes the easiest, cheapest, and quickest way to freshen up a room is simply to try a new layout. The photo above was a little girls' room in a recent client's space. The two beds were located on the wall to the left as you entered, perpendicular to the long walls of the room. This made the space feel smaller, and having the desk on the wall near the door made it cramped and awkward to navigate.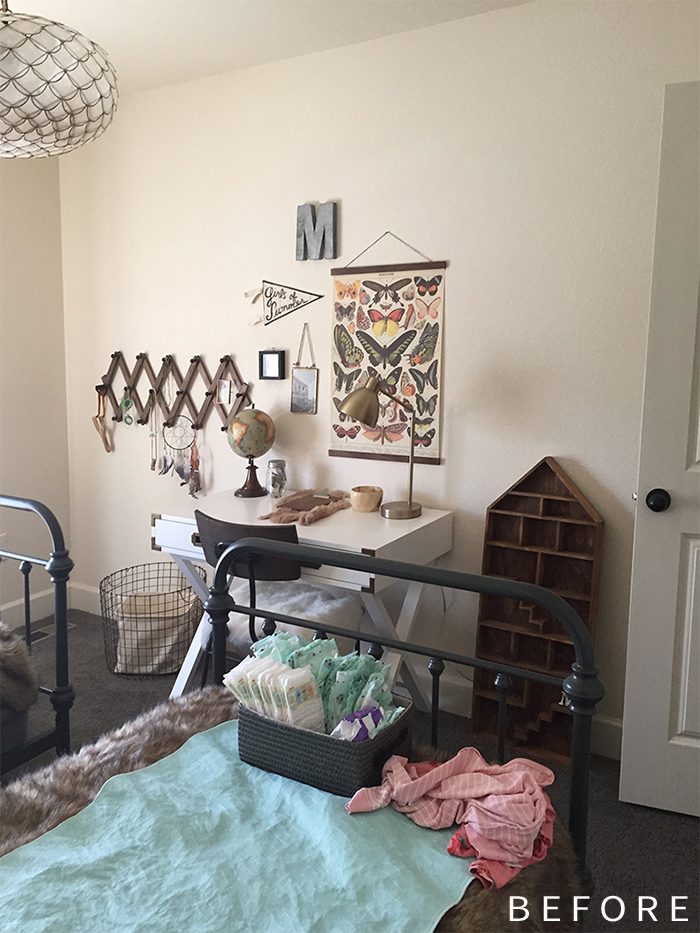 So, we moved the beds to either side of the window (parallel to the long walls), which in turn created space on the left side of the room for the desk.
Now when you walk in it feels so much more open, and we created a pretty large play area on the floor that didn't exist before.
If your layout feels perfect, great! Don't mess with it. But if it does feel "off," isn't conducive to how you use the space, etc. then try rearranging your furniture first—you may be surprised at the result!
2. Shop your home.
One of my favorite things to do is to style a client's home using pieces they already own. This works especially well if you're a hoarder like me, but you don't need a closet full of pretty props to pull it off! The photo above is a playroom that had some great pieces in it but didn't feel pulled together—the small rug was floating in the middle of the room, and the toy storage was placed along the walls with no real system in place.
We moved the rug under the love seat, swapped out the pillows, created a side table from some spare ottomans in the living room, and consolidated the toys on the other side of the room—creating this cool little reading nook:
If you want to give your space a new look try "shopping" the other rooms in your house first. You may find that the nightstand you weren't crazy about in your guest room actually looks amazing as a side table in your living room, or that the lamp that was too short on your sideboard is actually perfect by your bed!
3. Sell what you don't love.
I've said this so many times—if you're thinking of redecorating a space and you're on a tight budget, always start by selling the things you don't love and put that money towards the pieces that you do. Craigslist is the best for this (especially for large items like furniture) but you can also use ebay or Next-door.
Sometimes you do love certain pieces but they don't work in your space—that can make it especially hard to let go of them, but let go of them you should! The photo above is from an ongoing project for one of my e-design clients. She has great taste and we both really liked the storage pieces in her entryway, but with two little boys and one on the way, it was getting to be a storage problem. (Plus hanging jackets and bags out in the open can get very messy, very quickly.)
So, she sold both pieces (but kept the mirror) and put the money she made toward some closed storage in the form of an IKEA Pax system, which we jazzed up with some brass hex hardware. Now she has even more storage than before and the entryway looks organized and pulled together:
Of course, it's even harder if the item is a recent purchase—but be strong! You may be able to replace it with something that costs even less than what you made on it, which, my friends, is the best kind of decorating of all.
4. Buy what you do love—used.
If you're a regular H&T reader you probably already know how much I love Craigslist—and you might have read my tips for using Craigslist to decorate your home. If you're on a budget, it's the single best place to start shopping. And although it's great for vintage and antique items, you can also find new or unopened brand name pieces that people either don't want or can't return to the store. I once was about to purchase a daybed from CB2 and on a whim checked Craigslist, where I found the exact model I wanted for 50% off. I saved $400 and got the piece the same day — does it get any better than that?!
Visit your local Goodwill and stop by weekend yard and estate sales. Check out the "free" section on Craigslist and read up on what people are selling/giving away on Nextdoor. Etsy and eBay can be excellent sources, as can Everything But The House, which runs estate sales in an auction format and everything starts at $0. (The photo above is my son's room—the West Elm nightstand and bed are both from Craigslist.)
5. Conquer your DIY fears.
That's right—if you really want to save yourself some money and you're not already an avid DIYer, it's time to get familiar with power tools and your local hardware store. Pinterest is going to be your best source for project ideas. (Follow my DIY board for more inspo!)
Some of my favorite money-saving DIYs are using engineering prints to create large artwork, spray painting inexpensive hardware to look like luxe brass, or the always-awesome IKEA hack.
Tell me—how do you save money when decorating your home?
Thanks, Anna! These are fantastic tips! 

Anna Smith wants to live in a world where good design is accessible and affordable for everyone. An interior stylist based in Denver, Colorado, she creates modern homes for clients across the country through her firm Annabode + Co. When not buried in swatches and throw pillows, you can find her elbow-deep in renovations at her own fixer-upper. Find out more about working with Anna at Annabode.com.
Related posts: