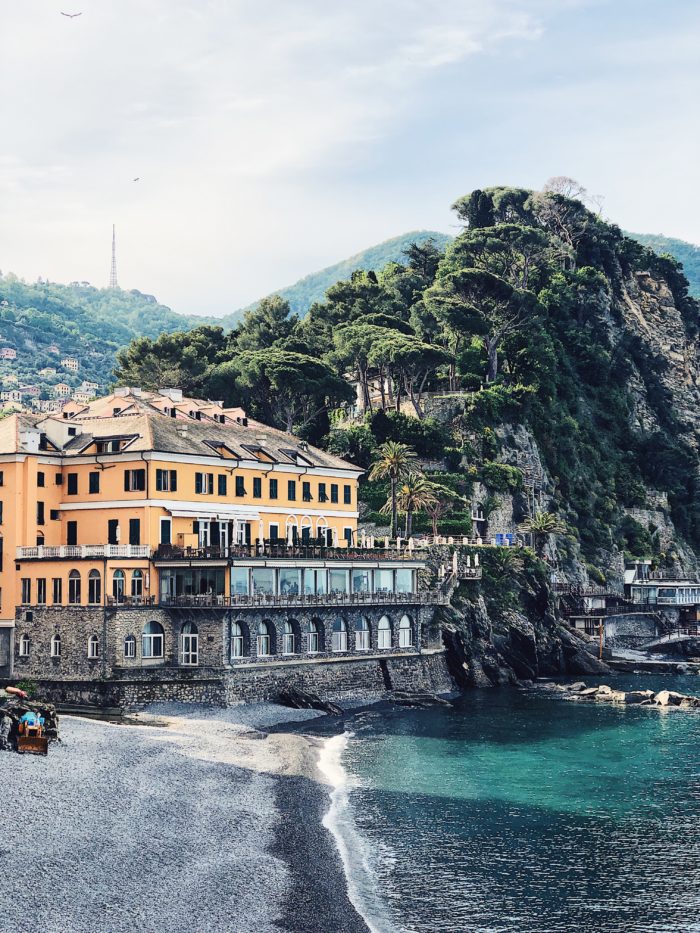 My friend, Laura Giannatempo, is always traveling to the dreamiest places in Italy (and, in fact, has just started her own travel company, ViaVai Travel) so I asked if she would share one of her favorites with us—some place we might not have heard about… 
I was riding the train counting the minutes until the next stop so I could get a little relief, since a small army of people was pressing against me on all sides, sticky arms against sticky arms, heavy beads of sweat running down the sides of my temples. No, I wasn't riding the New York City subway in a car with no air conditioning. I was on the local train that connects Monterosso to Vernazza—two of the Cinque Terre—some time in August of last year. And the people on my train weren't commuters, they were tourists.
Growing up, I spent most summers in Liguria, in a town not too far from the Cinque Terre. For me—a girl from foggy-in-winter, hazy-in-summer Turin—Liguria has always been a strip of eternal sunshine where temperatures never fall below floral-dress-fluttering-in-the-breeze level, where an endless stretch of blue sea flickers in sunlight, and where food and wine have a special sensuous quality—especially when your meals are relished in a front-row seat to the Mediterranean.
My summers were spent in the small coastal town of Bonassola, just two towns removed from Monterosso. But while Monterosso and the other Cinque Terre villages are quite literally invaded by tourists, especially in the summer, Bonassola has managed to retain a local kind of charm—and with that, a slow pace reminiscent of another era. Even in the dog days of summer, Bonassola clings anachronistically to a comfortable provincialism, a decidedly small-town vibe varnished with only the thinnest layer of city-folk chic, thanks to visitors from Genoa, Milan and Turin.
This is the Italian Riviera I want you to know; the one that rarely makes it on Instagram. With over-tourism now plaguing the Cinque Terre (as I clearly witnessed on my train ride last year), I think it's important for all of us to be more responsible travelers and diversify our destinations. I also think it's more fun and interesting to explore paths less trodden. That's when you really get a feel for a place, its people, its food. That's when the experience is more authentic and feels genuine. And that's what I strive to do at ViaVai Travel.
So if you're thinking of traveling to the Cinque Terre, consider looking beyond and adding some lesser-known but equally charming places to your Ligurian itinerary. Here are a few of my favorites…
Camogli
It may have something to do with the fact that I got married here, but Camogli will always hold a special place in my heart. If you're looking for the pastel-colored houses and the rocky hills plunging straight into the Mediterranean, look no further. This fishing-village-turned-resort-town boasts old, impressively tall houses painted in the traditional Ligurian colors, a lively stretch of beach right in town, and a fantastic hotel: the Cenobio dei Dogi, perched on a hill on the eastern side of the town's half-moon beach. The Cenobio has a lovely pool and access to a lido with umbrellas and chairs right on a small private beach.
On your morning stroll in town, stop by Focacceria Revello for a little appetizer of focaccia al formaggio (a specialty of nearby Recco) and then eat your weight in seafood at trattoria Da Paolo. When you're tired of chilling by the pool or at the beach (it's hard work, I know, but someone's gotta do it), take a ferry to nearby San Fruttuoso di Camogli, a turquoise lagoon hidden by tall, rocky hills and the most improbable location for a benedictine monastery.
Portovenere and Lerici
It's no coincidence this part of eastern Liguria is called Golfo dei Poeti (Bay of Poets): a number of poets, including Bryron and Shelley, have lived here at one point or another. Both Portovenere and Lerici are true hidden gems: they're just as picturesque as the Cinque Terre but with a fraction of the tourists.
In Portovenere, snag an ocean-front room at the Grand Hotel Portovenere, which is right in town on the water and has a good restaurant, or stay at the Torre Porto Venere, a lovely design-forward B&B (the rooms are lovely but tight). The Golfo dei Poeti Relais & Spa, in Ameglia closer to Lerici, is a swanky resort worth checking out, too.
Lerici is known for its medieval castle, an imposing presence right on the promontory. I love to hike the beautiful two-mile, castle-to-castle walk that connects it to nearby San Terenzo castle and take in the spectacular bay views from the castle rooftop. From Portovenere, be sure to take a quick boat ride to the island of Palmaria for a seafood lunch at Locanda Lorena. And because this area is known for the excellent Vermentino Colli di Luni DOC, whose production area straddles Liguria and Tuscany, make time for a wine tasting stop at a local winery. I recommend Terenzuola or Ca' Lunae.
Alassio
While the western part of Liguria (known as Ponente) is usually overlooked by American travelers, northern Europeans have been coming here to vacation for at least a couple hundred years, maybe more. And folks from northern Italy have made this side of Liguria their go-to beach destination, even more so than the other side, the Levante.
There are pockets that are truly charming, especially inland, and the historical centers of many Ponente towns are worth a visit.
Among my favorites are Alassio and Albenga. In Alassio, stay at Villa della Pergola, a villa-turned-hotel built by an English family in the early 20th century. Book a free tour of the villa's botanical gardens—a rare example of an English garden in Italy—and then head to the budello, the historical center, where you can meander through the bustling carrugi (traditional Ligurian narrow streets) full of shops, bakeries and markets.
Have lunch at Ristorante Babette right on the beach between Alassio and Albenga, while enjoying views of the Gallinara island just off the coast.
And don't miss out on the small city of Albenga, with its well-preserved medieval center built over the ancient Roman town.
Dolceacqua
While Liguria is best known for refreshingly crisp white wines, its red Rossese wines are just as yummy—fragrant and aromatic, ranging from light bodied to fully structured. The most prized Rossese is from the area near Dolceacqua, an uber-cute village inland from Ventimiglia, the very last Italian town before the French border. Rossese is hard to find in the US, so if you're in the area, you have to go for a wine tasting and maybe get a bottle or two to bring back. I recommend Terre Bianche, whose vineyards are positioned perfectly on a hillside with beautiful valley views.
Be sure to visit the town of Dolceacqua, particularly in the evening when it comes to life during the passeggiata (Italian for stroll). Eat at Casa e Bottega, a surprisingly good restaurant considering its position in a pretty touristy area.
And don't miss out on Apricale, a nearby medieval hilltop village, and get lost in its rambling, up-and-down stone streets. You can drive to Dolceacqua and Apricale from Alassio for a day trip, but if you want to stay closer, check out the small coastal city of Sanremo, whose unruly construction boom during the 1950s and '60s didn't quite manage to conceal its glorious past as an elegant seaside resort.
The Miramare The Palace is a recently refurbished grand hotel that straddles old-school and modern—although it almost feels a little too Miami. I like the simpler agriturismo Saglietto, about a one-hour drive from Dolceacqua toward Imperia.
Sounds incredible! Has anyone visited? Thank you, Laura!
P.S. More Italian inspiration: Travelogues for Rome, Puglia, and Tuscany
Laura Giannatempo is the founder of ViaVai Travel, a New York-based Travel company that curates immersive, boutique travel experiences to some of best, and often unexpected, wine destinations in Italy. She's currently working on a Liguria trip. A travel, food and wine writer/editor and a passionate traveler, Laura was born and raised in Turin, Italy, and lives in Brooklyn. All ViaVai Travel itineraries are personally curated by her and her team and partners in the U.S. and in Italy. Together, they handpick the best wineries, the chicest boutique hotels, the buzziest eateries that highlight local cuisines and lots of unique experiences.
Related posts: