In "5 Things," I'll ask locals from cities all over the world to share insider travel tips on where to eat, shop, stay, and play in their neighborhoods (plus, what to pack to make the adventure complete). This week, Rachel Whitehouse, a blogger and consultant at Maison Blanc, shows us around Phoenix, Arizona.
5 Things: Phoenix
The Valley of the Sun is home to an awesome mix of warm desert breeze, soaring palms and saguaros, majestic mountains, Hollywood-worthy pools, inspiring architecture, and contemporary art. Cool boutiques abound; the culinary landscape is impressive; and resorts serve as oases for locals and travelers alike. Phoenix is ideally suited for year-round outdoor activity (whether for nature enthusiasts or fairway lovers), or al fresco shopping with a locally-roasted coffee in hand. And if you need some pampering, we have plenty of spas!
Phoenix has grown and changed and really come into its own in the past 15 years. The city manages to maintain a cowboy charm, while welcoming a burgeoning modern, metropolitan culture-scene. There are so many lovely pockets in this city: Charming, well-established neighborhoods; up-and-coming hotspots; corridors with urban vibes; and plenty of family appeal.
And it's especially good for food lovers and coffee connoisseurs.
EAT
One of my favorite things to do in Phoenix is simply explore all the gastro-splendor that this town has to offer. Whenever we are looking to celebrate, we usually set up shop at Citizen Public House. They have a killer social hour with creative cocktails and some of the tastiest dishes in town. The fondue alone is swoon-worthy. The Gladly is a sister restaurant and has one of my favorite brunches. If you are a mimosa or Bloody Mary drinker, this is the spot. And speaking of cocktails, Honor Amongst Thieves makes killer drinks. They are new on the scene and definitely making a splash.
Pizza lovers will love the much-ballyhooed Pizzeria Bianco (or Humble Pie, if you want to bypass the wait). There is also Cibo, which is located in a restored 1913 bungalow and has charm and ambiance to match the tasty pies. If you need more pizza or Italian-inspired dishes, you can dig in at North or Pomo.
The Henry is one of the best one-stop-shops in the valley, from coffee to dinner and drinks to dessert. This cool and homey spot does it all. And when I am craving that perfect sandwich, I hit up Worth Takeaway. They know what they are doing. And they are champions of local crafters and makers and small businesses. If you are looking for some high-vibe sustenance, then Kaleidoscope is your spot. They serve up everything from breakfast burritos to açai bowls, perfect for a post-hike / post-spin / post-yoga fuel-up. There is also Uprooted Kitchen, which is a rad plant-based food truck turned eatery nestled in the heart of Agritopia Farm at Barnone (more on that later).
The East Valley is where we call home, and I am over the moon about all the recent additions to our neighborhood. Gilbert is bursting with restaurants. Liberty Market is a Gilbert staple but in the last few years, we have also welcomed Joyride, Postino, Barrio Queen, Clever Koi, Zinburger, and Lolo's Chicken and Waffles, to name a few. Speaking of chicken and waffles-type-things, Welcome Chicken & Donuts is outstanding. This throwback style diner creates some of the most incredible donut creations and pairs them with fried chicken. Winner-winner-chicken-dinner, indeed!
Phoenix is called the Valley of the Sun for a reason: this is the land of sunshine. And when you think of Phoenix, you don't normally think of coffee, but, you should. I feel like Phoenix has come a long way in the last five years. And we dig it. Just because we have all this sunshine, it doesn't mean we don't appreciate some solid coffee. The coffee scene is hopping, which is cause for much rejoicing around our home. Our daily grind is usually Matador, but sometimes (especially on the weekends) we go for more of a drive and hit up some of our favorite coffee haunts. In the East Valley, we like Provision Coffee at Palette Collective; or Peixoto for lattes and nitro and pastries (because Tracy Dempsey does the pastries and she is a GENIUS!). In downtown, we usually stop at Ocotillo or Lux (great cocktails too!) or Futuro or Tea & Toast Co at Desoto Central Market. And no list would be complete without Cartel or Teaspressa.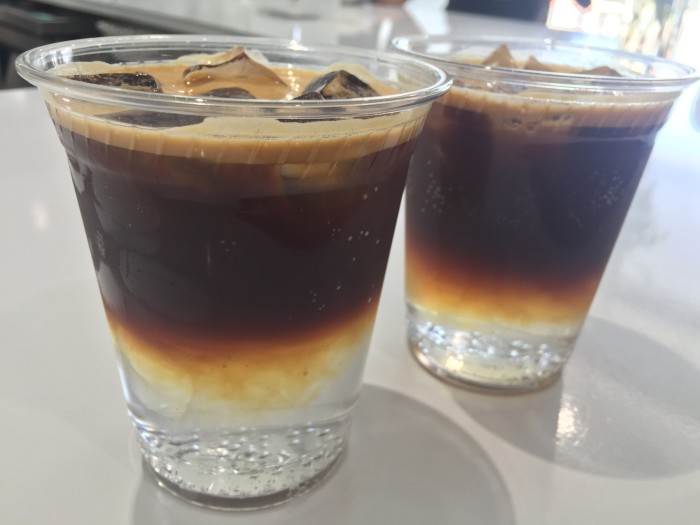 SHOP
Phoenix is a shopping mecca. It has a mix of Beverly Hills glam and Palm Springs retro chic…with a side of hipster boutiques. For more mainstream shopping, head to Fashion Square Mall or Kierland Commons (don't forget Scottsdale Quarter, across the road) or the Biltmore Fashion Park. If quaint is more your style, downtown Phoenix is home to incredible shops with everything from vintage clothes (Frances Vintage) to vinyl (Stinkweeds). One of the BEST apparel and home odds-and-ends shop is T.Madison; it's super fresh. Roosevelt Row is always popular for art. But my personal favorite is Gallery Russia in Old Town Scottsdale. 
STAY
There is no shortage of resorts in this resort town. You can find almost anything to suit your lifestyle and budget.
Hands down, our favorite spot in Phoenix is the Royal Palms Resort. It is a Mediterranean-style oasis with glorious grounds, posh accommodations, and fine dining. Other favorites are the Hotel San Carlos, Clarendon Hotel, and Hotel Valley Ho. Families will love the amenities at Westin Kierland.
PLAY
When the weather is right, you can catch a flick every Friday night in the courtyard at the Biltmore Fashion Park. Pack a picnic or grab takeout, and tote your blanket and chairs to stake your territory on the grass. The other primo desert dreamland is the Botanical Garden which boasts desert plants from around the globe. No city would be complete without a good museum, and two of our favorites are the Phoenix Art Museum and the Arizona Science Center. Our family loves the Farm at Agritopia. You can stroll the grounds and enjoy the farm and you can also eat, drink, and be merry while shopping from local makers at Barnone. 
Phoenix offers many art walks and seasonal outdoor food festivals as well as weekly farmers markets. With such fantastic weather year-round, outdoor actives are quite popular. One of the best sight-seeing and physical activities is a good hike. Camelback Mountain offers nice exercise with a sublime view of the city.
If laid-back is more your tempo, you can lounge or play at any one of the resort pools. The Westin Kierland has a huge pool complete with lazy river and surfing and other family-friendly activities. Of course, sprawling golf courses are everywhere and offer some of the best golfing experiences in the nation.
PACK
No matter the time of year, bring your swim suit and sunscreen. You can always be safe with a pair of jeans or shorts, a breezy t-shirt, sandals, and your best sunglasses. The cooler months will warrant a light jacket and maybe some boots. No matter when you visit, you can pretty much bet on sunshine.
Thank you, Rachel! A friend just suggested Phoenix for a weekend getaway—the perfect spring meet-up spot between friends on two coasts—and it sounded awesome! Can't wait to use this as a guide for a visit. 
And thank you to Sarah Ann Noel for coordinating this series. 
P.S. See the entire 5 Things Series.
Related posts: