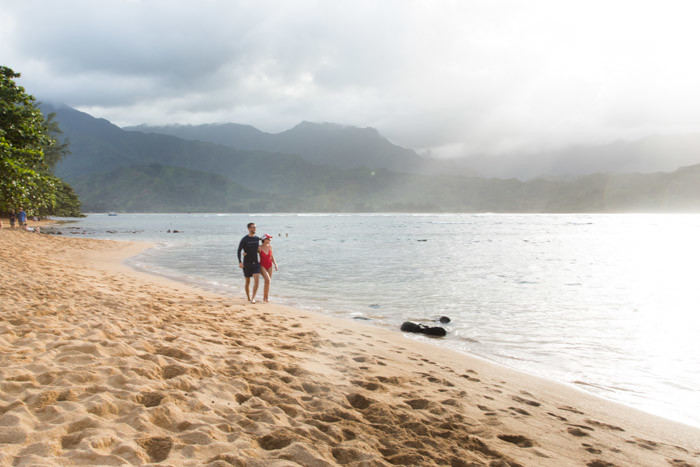 This October, the kids and I inserted ourselves into Aron's conference schedule and turned his trip to Kauai into a family vacation—as I am wont to do! It was a fairly short visit, leaving us with so many places we hope to return and explore. Kauai definitely had some of the most dramatic scenery I'd seen in all of Hawaii. It was jaw-droppingly beautiful. I hope many returns are in our future.
Here were the highlights of our stay (which, by now, you might know to mean a huge pile of photos), along with some suggestions we will be noting for next time…
Flights from California leave early, which means you tend to arrive with plenty of daylight left on your first day in Hawaii. We waited until the last second to grab the kids out of bed. I confess I always get a kick out of seeing them at the airport in their pajamas. They're really into matching lately.
South Shore
Aron's conference was at the Grand Hyatt in Po'ipu, which is on the South side of the island. October can be a wet month on an already wetter island, but the south side tends to be drier with more consistently sunny days.
We made our plans a bit late, so the Hyatt was all booked; instead, we used AirBnB to rent a condo at Kiahuna Plantation Resort, a complex a few minutes down the road. It was really beautiful, with incredible orchids all over, and easy access to the beach (shared with the Sheraton). We enjoyed having the extra space, but the drawback was that the pool is across the road, so we never checked it out. I did hear it's a nice one, with a water slide for the kids, but it was a bit of a trek from our place.
We immediately found lots of entertaining creatures around: giant snails, interesting sea birds, fast little lizards, and even some very large frogs! Or at least Hudson did; for Skyler, the early flight translated to a very drowsy afternoon.
So we all woke ourselves up with an afternoon swim.
The waves in front of our place were a bit rough for Skyler, but Hudson tried boogie boarding for the first time! My understanding is that the water here is much more calm during the summer.
There was a nice restaurant on the property—serving dinner-only—so we made that our destination on our first night. They were nice to let us come for a quick meal even though they were booked up. We promised to be fast—which isn't difficult with these two!
We had stopped at the grocery store on the way in from the airport and picked up basic breakfast and lunch provisions, and ate breakfast on the balcony each morning. Though Aron and I sometimes miss exploring new breakfast spots, the kids wake up ravenous and it seems only fair to give them some consistency when we're traveling—like peanut butter and bananas. I figure we ask a lot of them when we shake up their routine so much.
On our first day, Aron checked into the conference and the kids and I looked around the Hyatt. Non-guests aren't allowed to use the pool (unless you pay an exorbitant fee), but I may have let them sneak in for a little while. They have an incredible saltwater lagoon that's perfect for little kids, as the beach in front of the Hyatt tends to have strong waves.
There was a red flag out the day we were there, but we did find a small, protected area off to the side where we could look for sea snails and crabs in the low tide.
It looked like a beautiful place to stay and I was sorry we couldn't let the kids play on the slides—with everyone in meetings, the pools were practically empty! But they're pretty happy to play in the sand, too, and all of the beaches in Hawaii are public.
For lunch, we tried to go to the Koloa Fish Market, which gets raves for its no-frills, fresh-plate lunches and poke. Unfortunately it is closed on Sundays, so we found a food truck parked behind the small shopping center where we sat and watched folks take off on their ATV tours in muddy jeeps. There are some awesome activities on Kauai that we look forward to trying when our kids are older.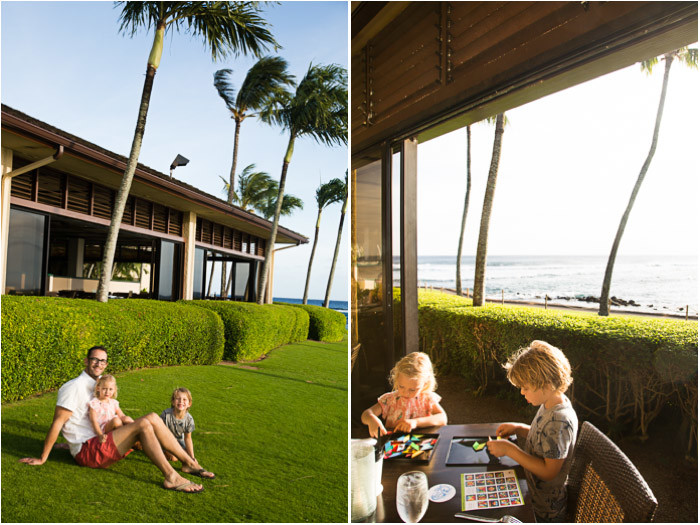 That first day was Aron's birthday, so I'd made reservations at The Beach House—which was recommended by just about everyone I spoke to about our trip! The whole restaurant is open on one side to a lawn that overlooks a small cove and affords beautiful views of the sunset. You can make dinner reservations for as early as 5pm and then show up a little early to see if you can get an ocean-front view (which are first-come, first-serve). The timing was perfect for us, as the kids were still on California time anyway, but it seemed like every table had a nice view and everyone would freely walk in and out whenever they wanted a better one. Which is to say, I wouldn't worry too much about seating.
Plus, if you can trust your kids not to get too close to the edge, they can play on the grass (and watch the parrots in the trees) while you have dinner!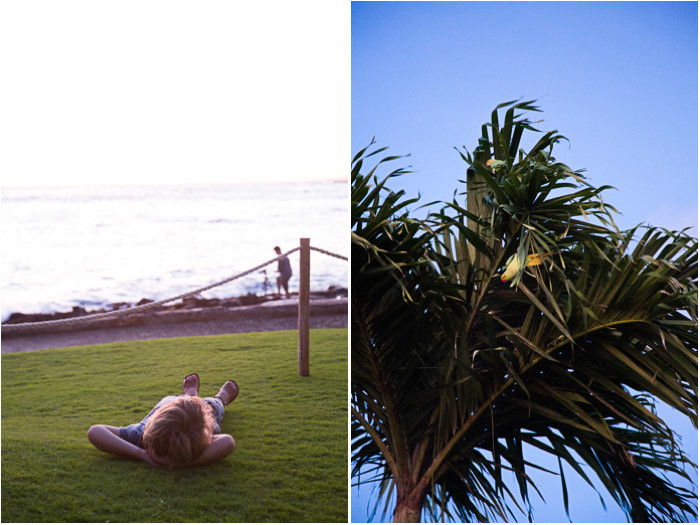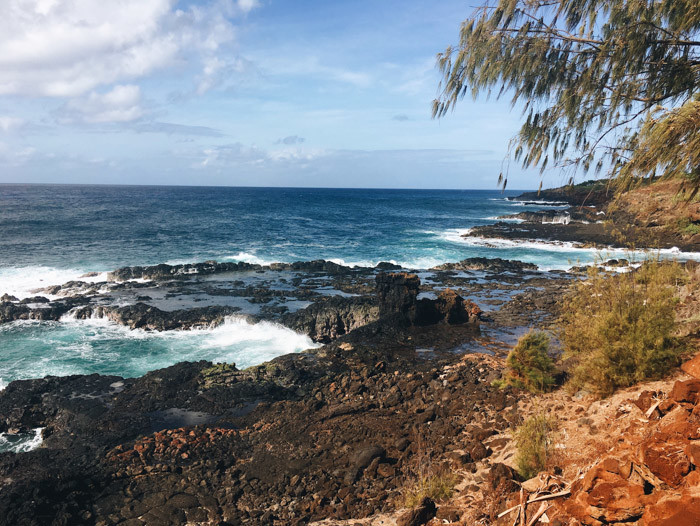 Each day, Aron would spend some time in meetings and then meet back. On our second day, we all started by checking out the Spouting Horn blowhole where the Po'ipu surf channels into a natural lava tube and releases a giant spray. Above is actually looking the opposite direction, however, where we could see fisherman standing on the rocks as huge waves crashed against them. There's a small souvenir market that sets up at the site, and we pulled up just as a tour bus was leaving. Still, it wasn't crowded.
Afterward, I dropped Aron off for his meetings and took the kids—with a giant bag of beach gear and some packed lunches—to Po'ipu beach park.
Said to be one of the most popular and safest beaches on the island, Po'ipu has a large, natural wading pool that's perfect for toddlers. There's also a lifeguard on duty, which gave me some extra assurance while watching the two kids in the water on my own. Hudson could snorkel and Skyler could paddle about in a vest without my having to hold on and worry about big waves.
We spoke to a few people about the clarity of the water—which wasn't very good—and most mentioned that we'd gotten unlucky as the water was more stirred up by offshore waves than it had been just days earlier.
Nonetheless we had some really exciting sea-life encounters, with multiple turtles coming ashore during our visit! Apparently we'd also just missed a monk seal!
The kids ate their sandwiches at the picnic tables there, and then I picked up some Island Taco (they have locations all over the island and make great fish tacos) for me to enjoy back at the condo.
While we didn't go, I should note that there's also a shave ice spot across from the beach park.
After an afternoon nap—for Skyler, not me (boo)—we picked Aron back up and took a drive just north of Lihue, into Wailua River State Park, to see the view of Wailua Falls. There are some hiking options to the falls, but the routes are not advised with kids. Most people will recognize the double falls from the opening credits of Fantasy Island. Or, at least, if you're my age or older… ("The plane, the plane!")
And because we were on the east coast, we stopped at Lydgate Park, a large beach-front park with campgrounds, athletic fields, playgrounds, and picnic areas. We'd wanted to check out the man-made swimming ponds (rock barriers keep the large surf at bay) for the kids, but they were far more interested in climbing the beach driftwood, chasing chickens (there are chickens everywhere in Kauai, but none that wanted to hang out with Skyler and thus the face), and checking out the playground (which was pretty awesome).
That night, we went to the Kukui'ula Village Shopping Center (an outdoor complex, typically described to us as the one with the Longs Drugstore), and checked out its dinner options. It had been suggested we try Bubba Burgers—a local chain for teriyaki burgers, fries, and milkshakes—and we made a note that we might want to come back for a nicer dinner at Merriman's or Roy's Eating House 1849. But that night we went for Savage Shrimp, a little hole-in-the-wall seafood spot that reminded us of the shrimp plate lunches we'd enjoyed on Oahu. I had tacos made with their Bahia shrimp, which are already peeled and sauteed in coconut milk—so good!
People also recommended stopping here for the Living Foods Market—a local, organic, gourmet grocery—and Dolphin Seafood restaurant, so it makes for a good dinner destination if you're in Po'ipu.
Aron was free the following morning, so we started off at the juice bar at the back of the Kukui'ula Store. This was one of my favorite finds in the area: totally unassuming and unfussy, you'd never expect this little grocery to be filled with such amazing food. There's even a little kids' play corner in the back to keep the kids entertained while you wait for your orders. We got some smoothies and giant Açai bowls to start the day, and then noted the phone number of the poke bowl spot inside for lunchtime.
The grocery also shares a parking lot with the Cortado Coffee stand, an all-natural-flavored shave ice cart called Loco Coco, and Da Crack taco counter—which seems to actually be in a crack between Kukui'ula and the surf shop.
Afterward, we decided to go back to Po'ipu Beach Park with Aron. We came across more turtles, and I got a chance to check out the snorkeling this time as we could take turns watching the kids. The highlight was spotting an octopus, but still the clarity was pretty low.
We picked up Gorilla Poke bowls from the Kukui'ula store for lunch back at the condo before the kids had quiet-time/naptime and Aron went back to his meetings.
When we met back up, we drove west along the southern coast toward Hanapepe ("Kauai's biggest little town"), which supposedly was the model for Disney's Lilo and Stitch. We stopped at Lappert's from some local ice cream, before first heading to Salt Pond Beach Park.
Named for the area's salt ponds—you can check out a large, flat stretch of land to the east of the beach to see the last spot in Hawaii where ponds are used to harvest salt in the dry heat of summer—Salt Pond Beach Park is protected by an offshore reef, making it fairly calm even in the winter. Apparently it gets really popular with locals on weekends, but it was pretty quiet when we were there, and the visibility in the water was pretty low. My favorite aspect of the beach was watching the waves come over the rocks to create hundreds of little waterfalls. There was something so beautiful about it!
On our way back, we drove through Hanapepe town to look at the Plantation-style buildings and take a walk on the "Hanapepe Swinging Bridge," before heading back to the Kukui'ula Village Shopping Center once more for dinner at Eating House 1849.
As usual, the seafood was so fresh and wonderful. And they had a really nice kids' menu, despite the atmosphere being a bit more adult.
I do think it tends to be difficult to find really nice mid-range places on the islands. If you want nice ambience and drinks with dinner, most entrees seem to fall in that $30-40 range. On the other hand, experiences like this make me appreciate the simplicity of the lunch plate counters and food trucks that abound, but they often don't come with seating.
This was our last night on the South Shore, so it was perfect that we happened to see the Sheraton's luau happening on the beach behind the condo. We walked out to the sand and watched for a while before taking the kids back to bed.
The next morning we set out for the North Shore, which I was so eager to see!
Along the way we stopped at Aloha Aina Juice Cafe (not too far from the aiport). It smells like heaven inside. I got the Pitaya Passion bowl, which was basically dessert.
And, on a friend's recommendation, I requested a detour in Kiko Kauai—a shop filled with beautiful, hand-selected items in Old Kapa'a town. If you were interested in doing some shopping, I think this spot and this part of the island would have some of the most interesting offerings.
North Shore
The North Shore and the area of Hanalei begins off the Hanalei one-lane bridge. Nearby is a beautiful view of Taro fields, where you'll likely pull off for a look.
We took in the view and then stopped for lunch at The Dolphin, right beside the Hanalei river. The sushi came highly recommended, but it was their Tahitian Poke that had us oohing-and-awing. We took our time in the sunshine, but had we known how close we were to our hotel, I think we might have pressed on with the hope of spending every possible minute there.
I'd been hoping to stay at the St. Regis Princeville for years, having once seen pictures of the views from its balconies. We splurged on two nights and it didn't disappoint.
When we first arrived, the sun was shining brightly and the scene looked unreal. Hudson, meanwhile, was in heaven from all the attention the warm staff gave him. He was talking about a mile a minute. They got punch and looked at pictures of the concierge's dogs while we tried to move everybody out of the lobby and onto the deck to enjoy the vistas!
If we could wait a little while, we could have a room that looked out onto the beach—to which we of course said yes—and I made Aron take a posed picture of me by the giant window as if we were there without two little bouncing babes waiting their turn to look out. Ha!
Because, we thought, that might be it! Almost immediately the clouds rolled in and the sky turned dark with rain and the forecast seemed to suggest it might stay like that for the rest of our visit.
The green moutains—once stand-ins for Bali Hai in South Pacific—almost disappeared completely.
I hadn't expected we would be hiking the Na'Pali trail on this trip, but now I wondered how many others would.
]
Still, we weren't going to let the rain keep us down. We swam in the pools, hung out with guests (all couples—most had left their kids at home) in the jacuzzi, and played in the sand anyway.
That night, we had the option of a Jean-Georges restaurant in the hotel or venturing out in the rain for something simpler and opted for the latter. Bar Acuda, Postcards, and Tahiti Nui were the most frequent recommendations for the area, but we chose Tropical Taco. It was just right for us, with bean and cheese burritos for the kids and fish tacos for us.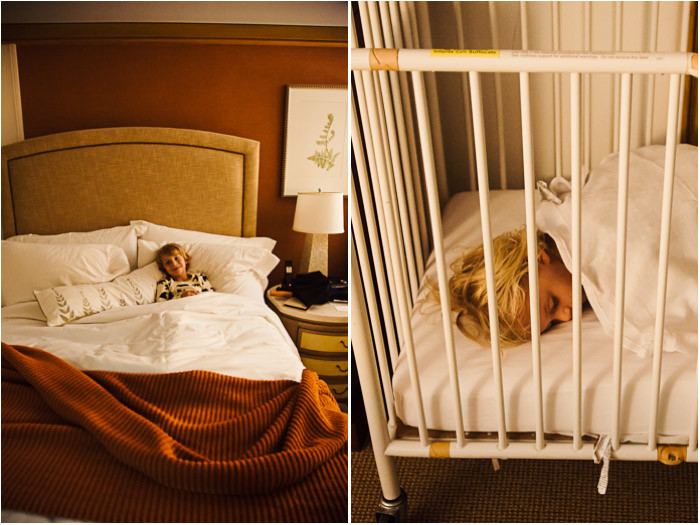 These bedtime photos make me laugh. Hudson, the first-born, like a little prince in a queen bed to himself and poor Skyler, second-child, in the little cage by the wall. (Just kidding. Sort of.)
I set an alarm for sunrise the next morning in hopes the clouds might have cleared, and they had! We still had bananas and peanut butter and other grocery items for the kids, so Aron quickly got them some sustenance while I rushed out to explore.
It was so beautiful! I texted Aron and told him that they all had to come immediately.
We walked as far as we could along the beach, occasionally darting into thick foliage and along sea walls, to get as far toward Hanalei bay as possible. In theory, you could swim across the Hanalei river to get into the bay, but I imagine it's quite deep, with some unpredictable currents.
A few surfers and stand-up paddleboarders were out in the bay and waterfalls dotted the thick green rainforest covering the dramatic slopes. One can see why Kauai is called "the Garden Isle."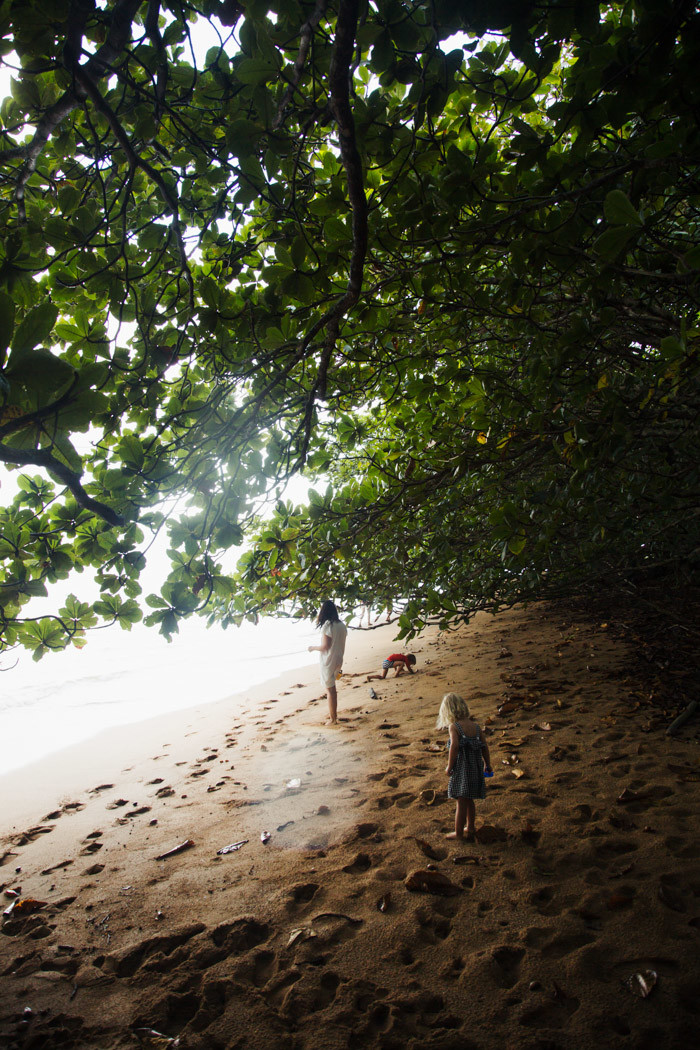 Under the shade of the trees, the kids tried to catch the crabs coming in and out of their holes; and I tried to avoid some of the giant webs spiders had woven in the branches.
It's here that the Na Pali coastline begins: 5 million-year-old sea cliffs that rise out of the pacific, with caves and beaches and waterfalls waiting to be explored. However, the coastline is only accessible on foot (the 11-mile Kalalau Trail), by air, or by boat, so it takes some effort!
We debated taking an island helicopter tour—they would take kids as young as Skyler—but it seemed better to wait until both are older and can appreciate it. The boat tours are an option starting around age 3 or 4, depending on the vessel, but tend to be several hours long. Kayaking and zodiac trips are of course off-limits. Which is all to say that we did not see the famed coast on this trip.
One couple had just come back from a boat excursion, and said that everyone was sea sick. Her story of their effort to recreate their idyllic honeymoon excursion, ten years later, was hilarious—though probably only in hindsight.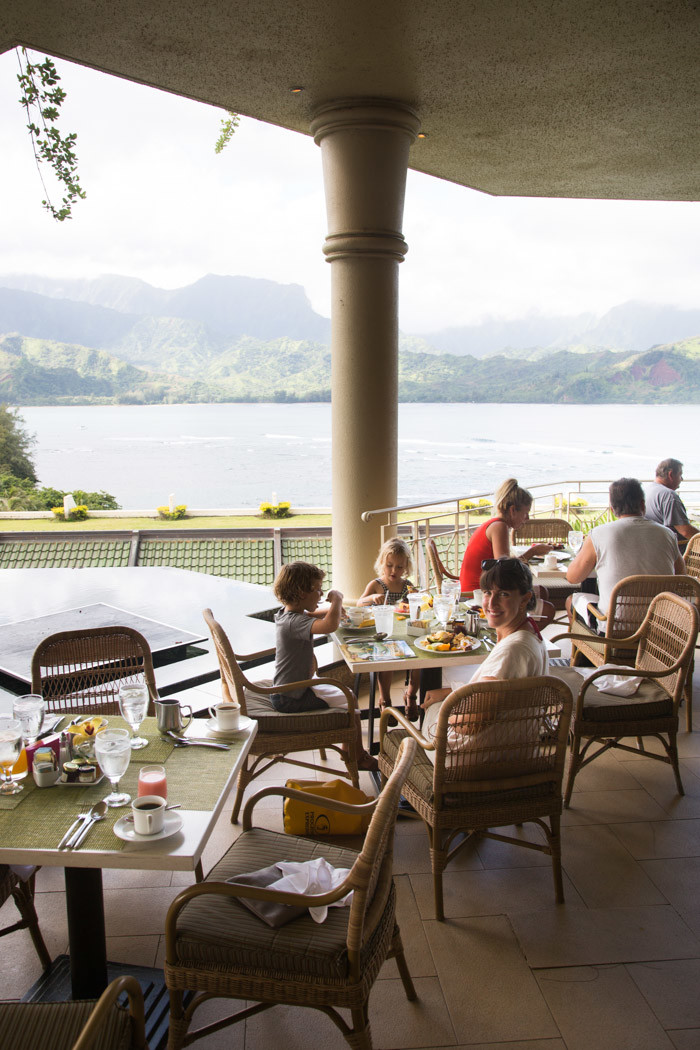 By the time we had the hotel breakfast at the normal hour, we'd already done a fair amount of exploring!
I should note that the kids are free for the buffet and I could imagine coming back for the view and the spread sometime even if we weren't guests.
As was true for all of the island, the water conditions are better for snorkeling in the summer, but this bay was perfect for the kids.
Hudson held tight to a coconut he found floating in the river when Aron and he took out a kayak. "Wilson!"
I tried the stand-up paddleboard, but confess I got a little nervous when I got out into the waves.
We stayed out as long as we could, soaking in every last drop of light, before heading in for our last night's dinner at the hotel.
The travel seemed to take longer going home, but I think it was probably just that we were sorry to leave!
One day we will make it back to see Waimea Canyon and the Na Pali coast. Until then, Kauai!
Have you been? What should we be sure not to miss on our next visit? 
P.S. More Hawaii travelogues—Maui and Oahu.
Related posts: